Lots of Love For Tinley Park Mom's First Born from the Tinley Junction and Silver Cross Hospital
Tinley Junction Newspaper and Silver Cross Hospital Send Their Congrats In A Big Way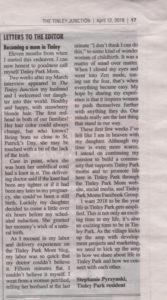 Completely bowled over by the love from the Tinley Junction Newspaper and Silver Cross Hospital. Cody, the editor at the Junction thought it'd be great to get a follow-up perspective from me after my interview back in March, so I wrote a letter-to-the-editor style article for the Junction after my darling firstborn Eileah was born. Eileah even got a spot in the newspaper in the announcements section and then on social media both the Junction and the hospital where she was born showed their congratulations to us on social media. Everything goes down hill from here right? Nope, this is only the beginning of a great, magical journey with Eileah in our life.
Thanks to blogger "TinleyParkMom," who recently shared her birth story at Silver Cross. "Your strength, compassion, guidance, and belief in me did more for me than the epidural. You truly are the reason I was able to deliver so calmly and quickly."https://t.co/J8UvQ1mNac pic.twitter.com/cz0XpJXf2B

— Silver Cross (@SilverCrossHosp) April 11, 2018
Congratulations to #TinleyPark residents Geoffrey and Stephanie Pyrzynski who welcomed their first-born daughter Eileah Penelope Pyrzynski to the world on March 21 at Silver Cross Hospital! @TinleyParkMom https://t.co/pa7OuiXYYZ pic.twitter.com/veABvY9gis

— Tinley Junction (@TinleyJunction) April 14, 2018
SaveSaveSaveSaveSaveSaveSaveSave
The Tinley Junction's parent company (22nd Century Media) closed in 2020, but you can still read the excerpt from the April 12, 2018 issue at this link on Yumpu.