Krithika Diamante Interview — Desi Girl Vihari Travel
The woman I'm going to share about with you I've had the pleasure of getting to know Tinley Park mom to Tinley Park mom. Our daughters went on a playdate at the beginning of 2020, friendship was beginning, and then COVID quarantine hit. But I've learn so much about Krithika in all this time since. Not only is she super smart and kind, she is also adventurous. When she's not being an engineer, this mom is documenting her travels around the world on her vlog and social media as Desi Girl Vihari. She's a regular Anthony Bourdain I tell ya, only female of course—and I am so happy to know her.
This is her story….
---
Q&A With The Woman Behind Desi Girl Vihari: Krithika Diamante
Where did you grow up?
In Hyderabd, India
How many children do you have?
One to fill our hearts.
How did your adventure brand DeshiGril start?
In 2015 I started pursuing my passion to travel solo. I couldn't find any solo female traveler brands from India at the time. So I started Desigirlvihari (translation: Indian Girl Traveler) for a place to share visa requirements, safety tips and to share the joy of traveling with others
What do you do for a living, a.k.a when you're not going on travel adventures?
I work as a Automation Engineer in the pharmaceutical industry.
Where did you get her training for what you do for a living?
I have masters in electrical engineering and mostly learning on the job. Education in my opinion trains our brain to solve complex problems but then learning on the job constantly having the hunger for learning is what helps you move forward and make a good career.
When did you first start to develop a passion for travel?
From my dad. I come from middle class family in India where it's unheard of to take family vacations as parents are always focused on saving for the kids education, wedding or future. But my dad made sure we went on vacation every summer to different parts of the country (India). In the days of paper maps he used to encourage us to read through the atlas to map a route for our destination. It was so much fun as kids navigating through maps and talking to people on the street to make sure we are on the right path.
What's something interesting about your job?
Opportunity to meet people from different corners of the world. You would be surprised by the hospitality you find in the least expected of places. It brings faith in humanity back. Same goes with my day job. I get to work with people from all parts of the world, learn so much about the cultures
What or who are your influences for travel, and are they different from who influence your career?
Eva Zebeck a Polish full-time traveller. I will never be doing traveling full-time like her. But I adopt a few of her philosophies to do conscious traveling with my 3 year old and husband. For my professional influencer it's Dr. A.P.J Abdul Kalam he is the reason why I wanted to be an engineer. He said "winners are not those who never fail but those who never quit." However my life has changed I hold on to this mantra to get the best out of the situations. Be it in my profession or in my passion.
What are some of your passions? Which one is the strongest and why?
Travel in and out. Learning about different places in the world.
What is the driving force of your life so far?
Never give-up.
Walk me through something you do that lights you up inside.
When I am able to inspire a young girl to pursue engineering or provide career advice to the entry level engineers. Helping them make better choices and excel in their job. That really lights me up.
What is something that get's you the most excited on most days?
Travel. Making reservations, helping others find better itineraries for the places I have visited.
What are some future plans you have for your adventure brand?
I want to spend time getting travel vlogs in my language Telugu.
In today's struggling economy, what steps are you taking to continue to help your family weather the financial storm we are all living through?
Living below our means and securing that emergency fund are a few basic steps we took to have peace of mind during this changing economy.
What books, podcasts, articles, etc. do you read/listen to that influence the way you approach business and life?
Who Moved My Cheese? by Spencer Johnson is my go-to book and have read it multiple times in the last 10 years. Podcasts I listen to are more on the public affairs side, nothing to do with travel or engineering. They help me understand the culture in a foreign country.
What would you say is your favorite place (restaurant or other kind of place) in Tinley and/or the Chicago Southwest Suburbs?
Coopers Hawk and walking along Oak Park Avenue during summer, exploring the pretty benches we have.
Is there anything else that I haven't asked you that you would like people to know about you?
Learning to see good in everyone is a habit I have cultivated through practice and it changed my life. Give it a try.
---
Where To Follow Krithika
A Powerful Message About Life and Travel After Baby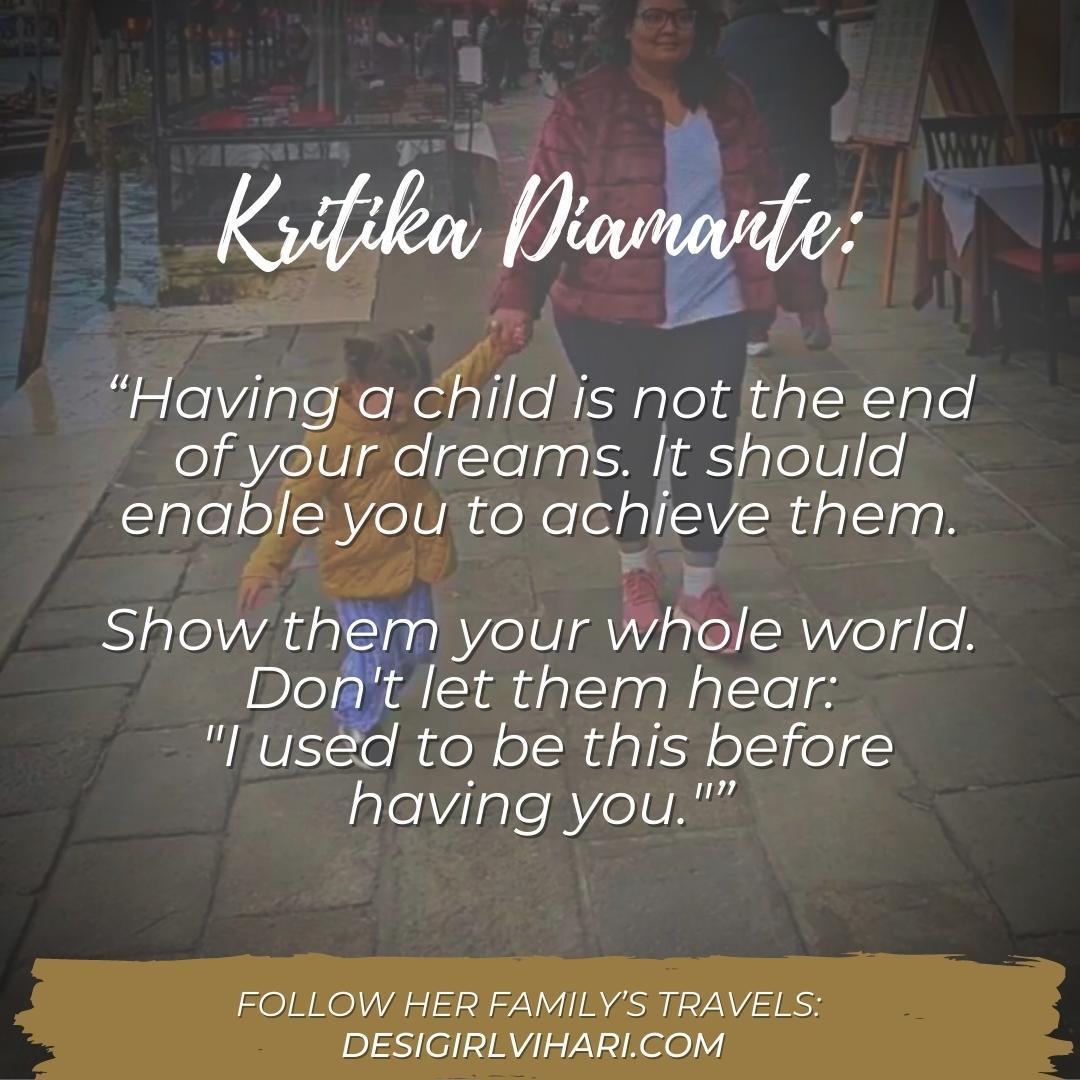 Former Tinley Park Mom Kritika moved out of state in the summer of 2021, but she is such a cool person to learn from. Travels everywhere ✈️. Continue to follow her online at the same website and social media. The quote above further demonstrates her inspiring message and example.
Having a child is not the end of your dreams. It should enable you to achieve them.

It is difficult but not when you bring them along. Sometimes you feel like giving up but the little moments will keep you going if you acknowledge it.

Show them your whole world. Don't let them hear "I used to be this before having you" 

Krithika Diamante