Anthony Bourdain and Tom Vitale's Favorite Fan Blogger: Karen Wormald
When I learned about Karen Wormald's blog https://catsworking.wordpress.com it was like discovering the Book of Amun-Ra or something. For diehard Bourdain fans, she is THE unequivocal source for Bourdain news and truths. She is an approved reporter who earned the man and his peeps' respect, gained access to themfor being a trustworthy reporter, which in turn made her writing on the subject of Bourdain projects even more credible.
For goodness sake, Tom Vitale devoted a paragraph to her in his memoir In the Weeds. Getting a mention like that is like getting a stamp of approval to me—high praise, no? Here's the excerpt from the Fame chapter where Karen is mentioned:
"My personal favorite [fan] was Karen of catsworking.wordpress.com. She devoted herself—fully—to blogging about politics, cats, and Tony. Karen's investigative skills would put the FBI to shame. Her in-depth and insightful blog posts about Tony were often chillings accurate. Tony spoke of her often, and spent a fair amount of time devising ways to ensure he remained on Karen's good side."

Tom Vitale – In the Weeds (2021) [page 169]
Suffice it to say, Karen's blog is where you can be sure to get the real scoop on Bourdain world things.
Who Tom Vitale Was To Bourdain
For those unfamiliar with the name Tom Vitale, he was Anthony Bourdain's producer, director, and very close friend of nearly 20 years. He was right at the beginning of Anthony Bourdain's television career; fresh out of college in fact. Therefore it makes sense why he would say in his memoir that Bourdain was very much a father figure to him. Karen confirmed this to be true in my call with her—I highly recommend reading her interview with Vitale on her blog.
You should really read his book In the Weeds though, to learn all about him and how important he was in Bourdain's life. Vitale has a way with words too.
A Conversation With Karen Wormald
I spoke with Karen over the weekend on the phone (totally fan-girled) and learned that her blog https://catsworking.wordpress.com was first just a part of promoting her book How To Work Like A Cat. Then the blog organically became her playground for writing anything she wanted.
I don't want to go into detail with our conversation except to just share the following observations and takeaways:
Karen Wormald is a really cool lady, and soo not a "Karen." Nice and sharp as a tack, I am honored that she agreed to talk with me over the phone this past weekend. That awesome hour long conversation was so nourishing for my mind and soul. It's always great to connect with a fellow Bourdainian, but Karen and I also chatted about writing. Speaking with a pro who has years on you brought so much relief and education that I did not expect to receive. She was really generous with her time. Deep down I hope I've made a writing buddy ☺️.
And not surprisingly, Karen is a professional editor, copywriting, and content marketing writer at her company called, KewPubs: https://karenwormald.wordpress.com.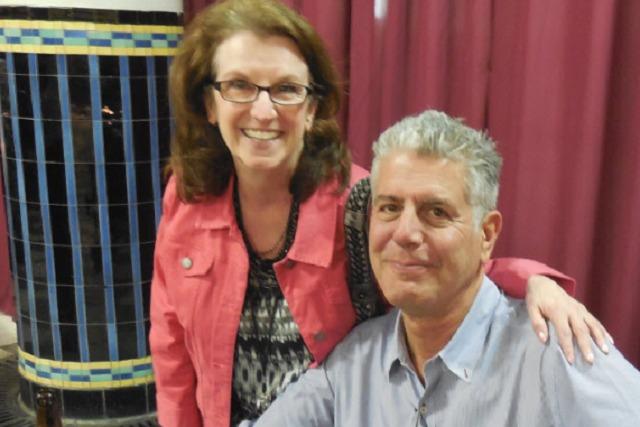 Sidenote: You will no doubt stumble upon a photo floating around the internet of a woman next to Bourdain at a book signing. That photo is of Karen actually, but for years has been misattributed as a photo of Bourdain alongside his ex-first wife Nancy Putkoski (who is well documented as being a very non-attention seeking person). Personally I'd take that as a compliment. ☺️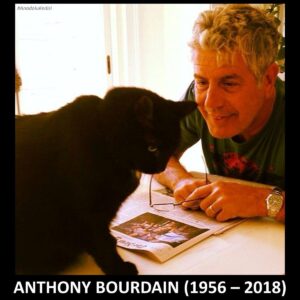 Anthony Bourdain Was a Cat Person
This is totally random, but in looking for any "cat" related things associated with Anthony Bourdain, I did find this: Bourdain once told the Boston Herald in a December 2014 issue that:
And it's no surprise that many of Bourdain's closest friends and colleagues love cats too, like Tom Vitale.
In an interview with Karen on her blog Cats Working, Vitale confirmed that he shares a love for cats as well.
CW: Being Cats Working, I have to ask about the many random shots of cats on your B roll that made it into the shows.

TV: Tony would joke a lot about my cats and my relationship with cats. I adore cats. So, the camera guys knew whenever a cat was around they would film it, and I'd use it in the edit.

Conversation with Tom Vitale, Conclusion – October 27th, 2021
Another signifcant person in Bourdain's life that shares his love of cats is his second wife Ottavia, which I learned of in the documentary Road Runner (2021). I don't want to spoil too much of it because the documentary is great, but a cat of Ottavia's played a special role in bringing she and Bourdain together during their initial dating days.
The Authority on Bourdain
So if you're looking for a verified and legit Bourdain expert, Karen is your guide. I hope she'll be remembered as a legend in her own right—more people really should know about her and follow her. Hopefully this blog article helps make that happen.