Interview With Author Brian Swift On His New Amazon Bestseller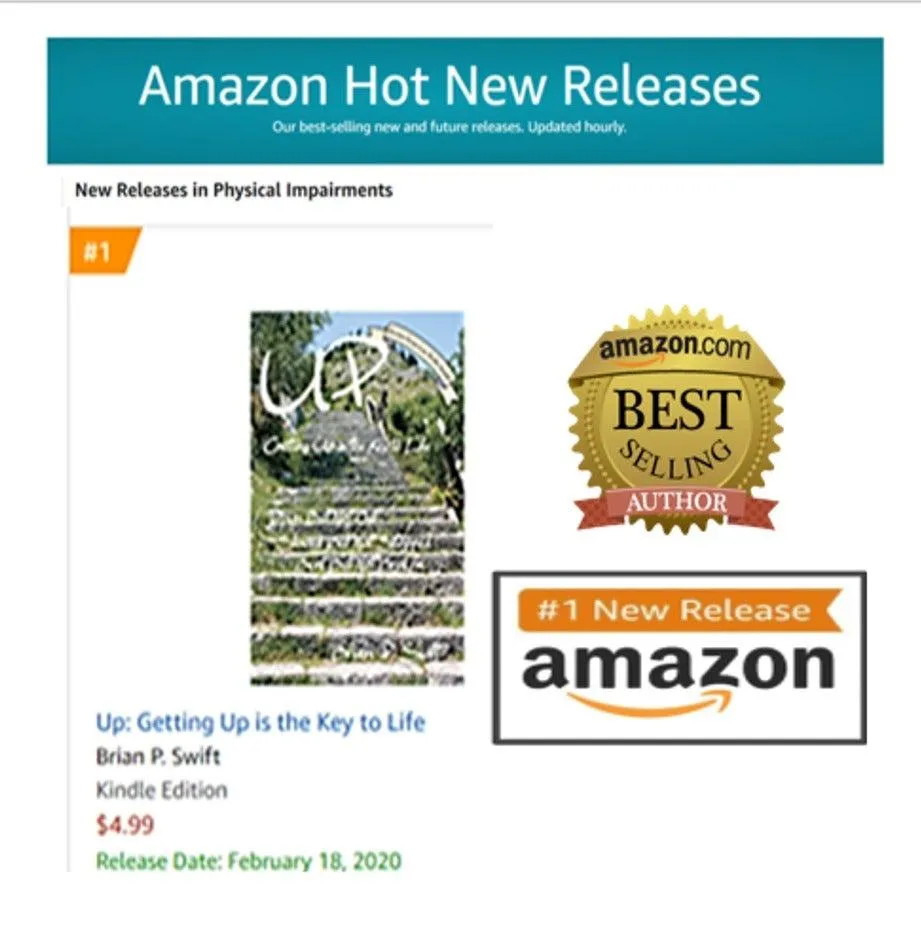 Brian's neck was broken while playing football with his friends on the sunny, chilly day after Christmas, 1979, at the age of seventeen. As he found the courage and strength to recover, graduate from high school, earn his college degree, and earn his Juris Doctor degree as a quadriplegic, he also found his purpose: to achieve more than expected, and to aspire to the best he can be. Now the father of three and a husband of over 26 years, Brian has developed his strategy of success, CIA: Commitment, Integrity, and Attitude. With his engaging style and practical wisdom, Brian will leave you invigorated to face your own struggles with hope, faith, and purpose.
Here is my candid interview with him:
Q&A
Where did you grow up? Burbank, IL
Do you have children, and if so how many children do you have?
I have 3 kids; Spencer 26, Sydney 20 and Callaghan 18.
How did your business start?
I had planed on starting a non-profit 20 years ago and 6 years ago everything came together. I also started writing my first book about 40 years ago and finished it 6 years ago and had it published.
Where did you get your training for what you do?
I read books, information online and talked to people who had done what I was looking to do so I am self taught.
When did you first start to develop a passion for what you do?
I saw a need for what SOAR does 30 years ago and as I learned more, got more mobile and did more I realized the need. More importantly I recognized the benefits of getting outdoors.
How many employees does her business have?
We are a 100% volunteer foundation. We have 4 full time/ part time people and numerous part time volunteers. Soarnonprofit.com
What or who were your influences?
My mom, dad and wife were my early influences. God.
What were some of your passions? Which one is the strongest and why?
Some of my passions are, my family, coaching, getting outdoors, fishing, hunting and writing. My strongest passion is my family, being a great roll model as aa man, a husband, a father, a son and as a friend.
What's the driving force of your life?
My Trinity, Faith, Family and Friends.
Walk me through something you do that people love.
Most people love my humor and sarcasm.
What is something that get's you the most excited?
Working on projects with my family, family time. Doing stuff outdoors.
What are some future plans you have for your business and/or life?
My future plans include creating SOAR non profits in other parts of the country. Write more books and do more speaking and traveling.
In today's struggling economy, what steps are you taking to continue to grow your business?
I am learning about grant writing. I am also learning how to have virtual events and trying to develop more collaborators
What books, podcasts, articles, etc. do you read/listen to that influences the way you approach her business and life?
I am a big John Maxwell fan and certified coach and speaker. I also belong to a small group and read the bible every week. I always have several books going.
What would you say is your favorite place (restaurant or other kind of place) in Tinley and/or the Chicago Southwest Suburbs?
My favorite place in TP is my mom and dads house. Also my dad did the farmers market for years so that's an awesome place. I also love all the riding paths is the southwest suburbs.
---
Link To Where You Can Find Brian Online:
Brian's website: http://brianpswift.com
Brian's Amazon Listing https://www.amazon.com/Up-Getting-UP-Key-Life/