How To Run For Office, For Women Just Got Easier: She Should Run
Regardless of her party, you've got to admit that Kamala Harris' acceptance speech last night at the Democratic National Convention was pretty inspiring. And the timing coincided with the 100th anniversary of the 19th amendment. How perfect was that?
Whether it was destined or planned, Kamala Harris' vice presidential nomination is a new mile stone for women that without a doubt has creted a confidence surge in women, to get involved in their local politics.
Leading up to the her speech, I was on Twitter seeing what the conversation was and I noticed that some thing kept popping up: She Should Run.
What Is She Should Run?
Created in 2017, She Should Run is a platform that aims to help women get the resources and support they need to run for an office or get involved in politics in some way. Since it's common for women not to know where to start, She Should Run helps be a springbord. The website is like a Facebook and an online library for women who are curious about public office or work in government orgs, but don't know how to find what they need or don't know where to start. For that reason I thought it might be relevant for some of you or someone you may know, to know about it.
The Facebook aspect of it are groups because She Should Runsays on their website "it takes an ecosystem to get more women running—we give everyone ways to play a role in transforming the face of government —both local and national." There's a group for Illinois, and then I created the Chicago Southland and Tinley Park groups.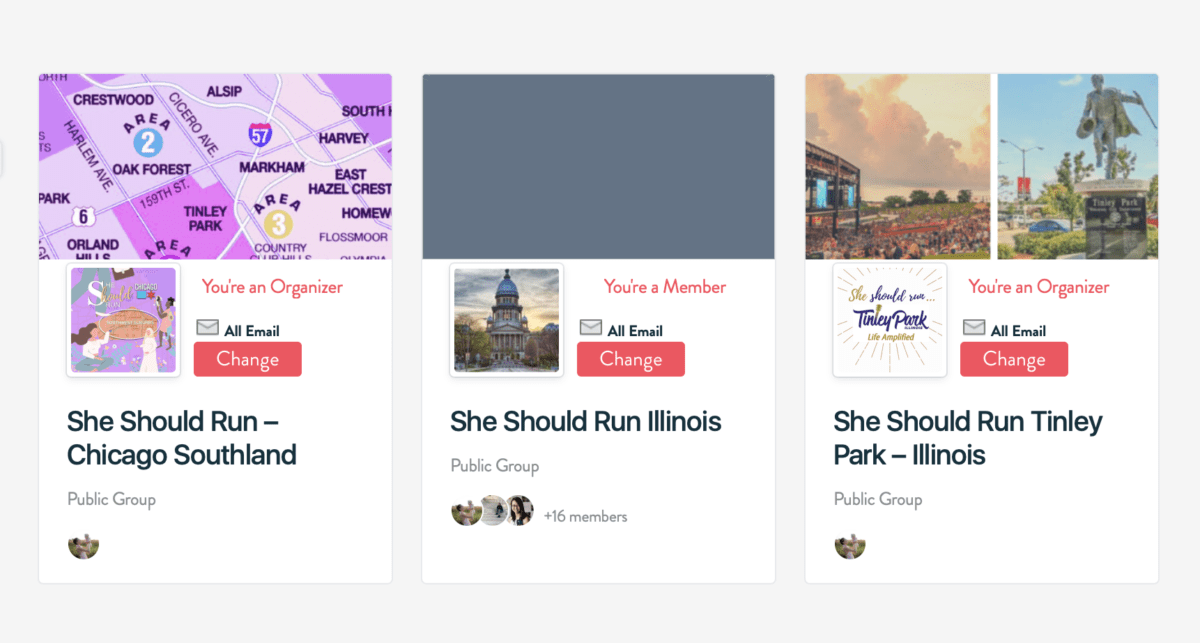 The library aspect of She Should Run is that women from across the country share how they got into public offices or in some way work in government, and answer questions too.
Chicago Southland Female Leadership
I don't know too much right now about women in political positions here in the Chicago Southland, but I did find out that Tinley Park's first and most recent female Mayor was Rose Marie Ippolito. I was suprised to not find a single thing about her being the mayor, except on her obituary—an a broken link to an old Tinley Park Patch article. She led the village in the 1950s while running a law practice and raising six children, including three of her late brother's children!
So it's been over half a century since the last female Tinley mayor, not sure about the other suburbs around the Chicago southland, but keep this in mind ladies—the next filing dates for running for Tinley park mayor are Dec 14, 2020 – Dec 21, 2020. Just sayin'.
What's Holding Back Women From Politics?
She Should Run addresses some big obstacles for anyone who has ever wanted to be involved in politics or governement: figuring out where to start, how to run, how to win, and how everything works once you're in a political position or job. But what's the unique problem that dissuades women from pursuing something in politics or government? For me, I think the problem to really consider is deciding to run or not. There are so many positives to being involved in politics or being in a leadership position: improving your neighborhood, making people happy, etc. But there are also negatives: time away from your family, your kid(s)…and the thing that really would scare me is the possibility of any harm coming to my family and friends by someone angry or unstable. Afterall, being in the public eye is not for the faint of heart, and politics effect our everyday lives. Just gotta take that leap, if it means a lot to you, you usually find a way to do it. And now women have more resources and opportunity to run and win!
SIDENOTE: This is a cool read: When Mongol Queens Ruled the Silk Road. Everyone knows about Cleopatra and Catherine The Great, but they are just the tip of the ice berg of female leadership world history.