A dream within a day
I look back on July 16th as if it were a dream, even more so I feel like the morning of July 17th was a dream. I still can't believe Sammie is with us again so soon. And I wonder now, as my neck and shoulders ache from the car collision, how Sammie's body must feel. The last tip we got on her location was around 2PM CST the day of, that she was near 179th street. Where was she hiding? What was she doing for all those hours? She's our little princess, and like the story of The Twelve Dancing Princesses I wonder if she had more fun than anything during those hours we worried, searched and reached out for her. As much as we all were scared from what happened to us in our car, Sammie responded the most drastically. Sure I chased her, but she kept running for dear life. She was scared, and I was scared that she was scared and hurt, but after a certain point I wonder if she made the best of her situation and came up with a strategy to come home when it's safe and quiet, like during the night.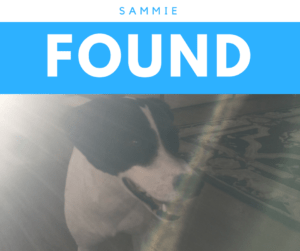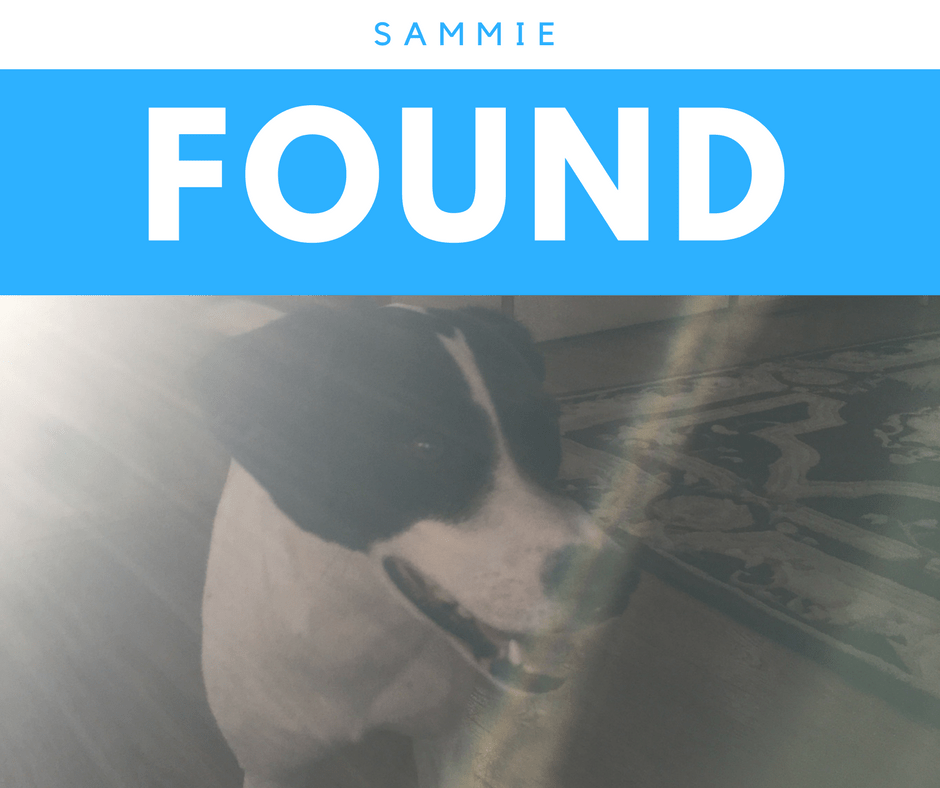 How she came back
Sammie came to her best friend Maddie's house the morning of July 17, 2017. Maddie is the dog of my parents-in-law who live literally 0.6 miles away from my husband and I. She got into my parents-in-laws' backyard by jumping over a chicken wire fence that separates their fence from their neighbor's fence, which is very high up and leaves too much space for a dog to be able to crawl under. She had dirty paws and red spots on her tummy from jumping over the chicken wire fence, but all in all she was our old Sammie. She is sleeping now, it is July 18th, 2017 8:18AM CST.
My father-in-law showed us the security camera view of the backyard and revealed that Sammie actually first came to the backyard around 12:45AM!!!!! So Sammie in fact was only missing for 12 hours and not 18. He saw her at the backyard door at 6:09AM, called us at 6:12AM after what I can imagine was a crying out of joy spell as he let her inside their home, and we rushed right over.
Why She Came Back
Since our car was totaled my parents-in-law drove us around several times Sunday, July 16th, when Sammie went missing. We had left our porch door open all day, but we live in a townhouse that looks like every other, so it is no wonder that Sammie would try to find a house that is more distinct and easy to differentiate from others. My father who used to hunt in his country as a boy and young man also said that because Sammie has hunting dog genes, she knows our area better than we give her credit for. However, I will say that we left a bully-stick for her and it was not in the same position we left it. Whether she came onto the porch deck or not, Sammie came back to us. She knows we visit a lot with my parents-in-law, she knows how loving and good of a family she has. She really does lead a charmed life. Sammie is so loved, I make jokes that my husband and I are living a saccharine version of Everybody Loves Raymond life but it's really an Everybody Loves Sammie life. We can't imagine what life would have been like without Sammie.
Lessons Learned from Losing Sammie
An important thing about losing your dog that I learned is that people can only help how much they can. You have to be okay with some people remaining concerned bystanders. For example, my parents live 40-miles up north, they offered to help us look but we declined because they don't know the area and we were going to get a rental car the very next day anyway. I knew that it would have been like leading the blind if we had people who didn't live near Tinley Park help us look. But I was bawled over by how kind everyone we met on our searches were. Even late at night I met these young college students who saw me squeaking a squeaky toy and holding my flashlight, calling Sammie's name, and they asked if they could help. Don't say no to those who are in your area who can help, they know the area like you do, divide and conquer is better than concentrating all your efforts. Also, there are so many good people out there, you just have to be open and unafraid.
Final thoughts
We all kept the faith; our family, the kind strangers we met along the way, everyone on social media. My mom even told me she had a dream that she drove down to Tinley Park and found Sammie in the parking lot of Tokyo Steakhouse, our favorite hibachi restaurant in the area. I had a dream that a coyote brought Sammie to us as we continued our search on what would have been the following day. In the end it was Sammie who did all the work. Her courage to come back as a shy rescue dog fills my heart with such warmth.
Sammie is the most incredible dog I've experienced in real life. She is my first dog actually. So I'm still going to ask her, "Sammie, what did you do that night?" She didn't get bites, her only injury are the red spots from touching the chicken wire fence, but she is basically untouched and ok. She is truly amazing, not your typical pet. If I was ever in danger or needed to survive in the wild, I'd have Sammie as my guide.