Highlights From The 2023 Chicago Botanic Garden Orchid Show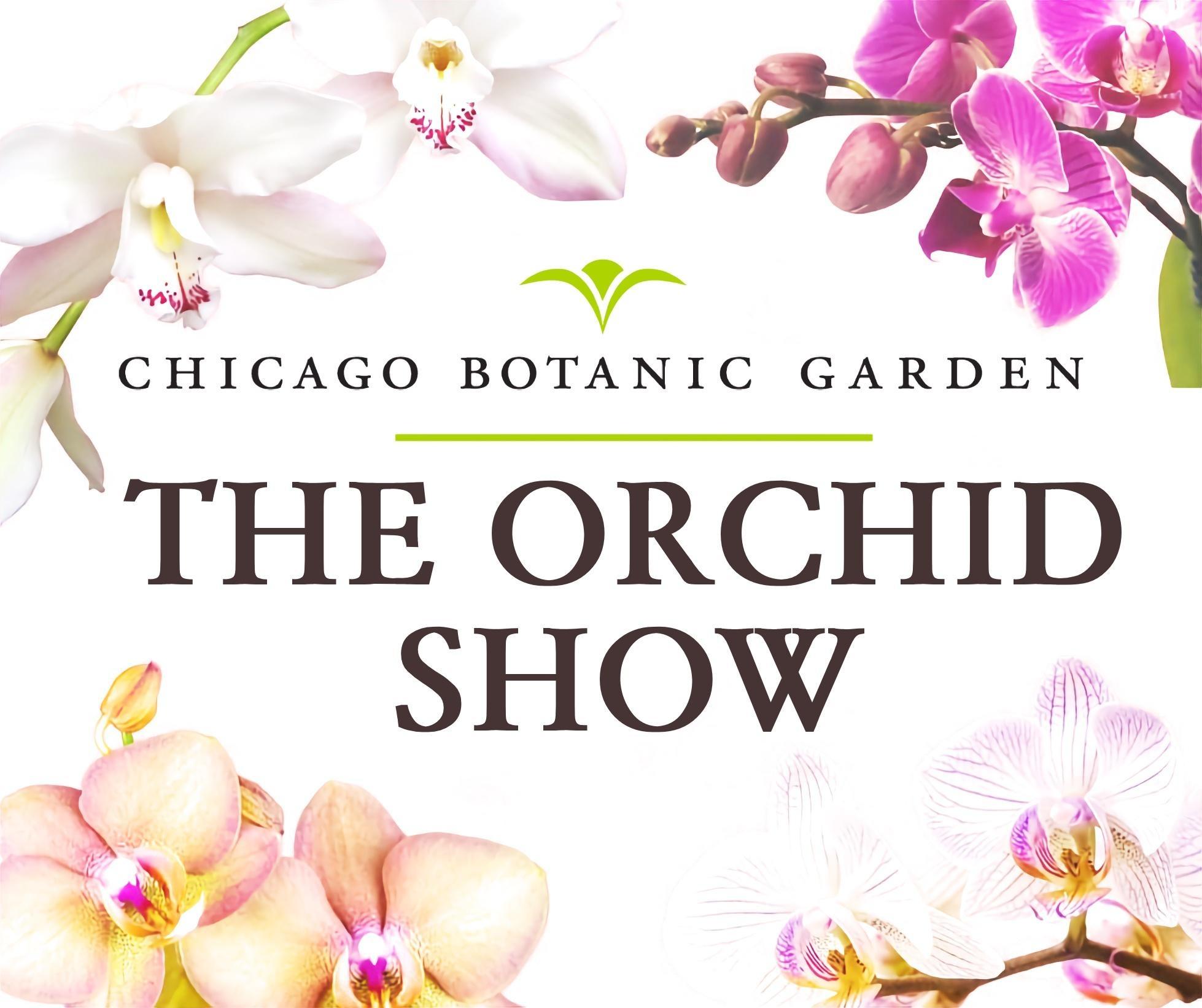 This distinguished floral show is arranged to showcase more than 12,000 rare, unusual, and exotic plants from around the world in a seven-room display area. Horticulture like any facet of life requires funding to stay vital. And believe it or not, shows like this are vital to helping preserve the endangered and threatened species of orchids in the world.
The rotating selections from the collection are housed within the staff-only production greenhouses on the Chicago Botanic Garden's south end. Opened in 2019, the Mildred Plant Orchidarium houses hundreds of taxa, or individual types of orchids.
The largest show of its kind in the Chicago metropolitan area, The Orchid Show provides a vibrant sanctuary for beautiful orchid varieties to thrive and their color to stay bright, during the height of winter. And helps to raise funds for the Chicago Botanic Garden, so it can continue to help preserve species and more.
Through A New Lens
One of the sevene displays at The Orchid Show features magnifiers: Fresnel Lenses—hence the added tag to this year's show title: 'Magnified'. Fresnel lens you may know from lighthouses. These compact, powerful lenses, developed for use in lighthouses, enable unique focus. Incorporating them at The Orchid Show allows people to view orchids through a new lens, so they can better see their differences—and gain a better appreciation for their uniqueness. And the fresnel lenses are just darn cool to look through!
One thing that may suprise you from The Orchid Show is that you might come across some varieties you don't like so much. There are so many varieties of orchids I had never seen before, but I was suprised that I didn't like some varieties. I went in thinking they would all have that same shape, just with different colors, but boy was I wrong! Some even looked like daffodils at first glance! So the concept of The Orchid Show: Magnified took on a greater significance for me once I experienced it.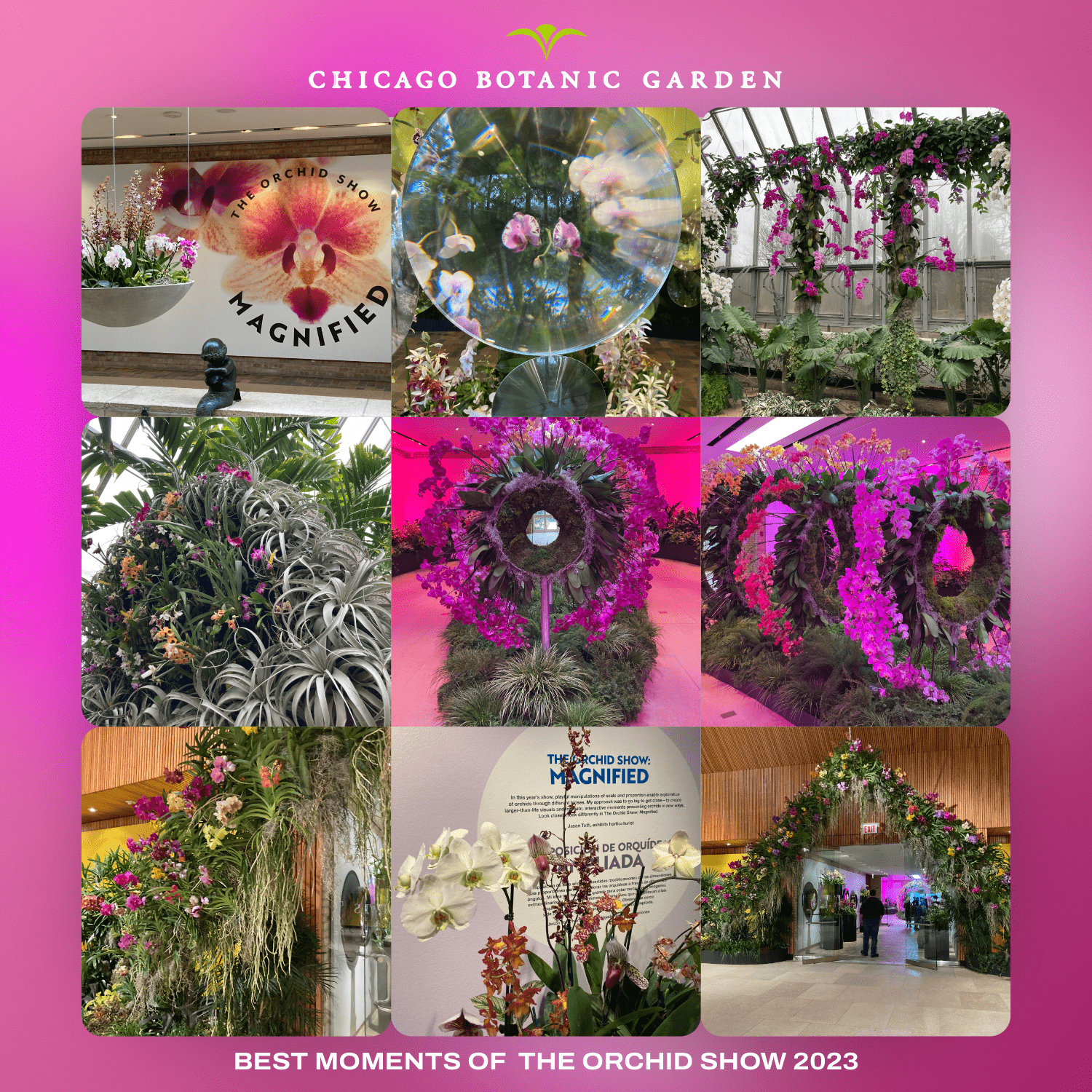 February 11 to March 26, 2023
Daily, 10 a.m. – 4 p.m.
Adults: $7/$19
Children age 3–12: $5/$14
Free for children age 2 and under
All tour packages include motor coach/bus admission, priority drop-off, Orchid Show exhibit admission, and ten percent discount coupons to the Garden Shop.
FYI: The Chicago Botanic Garden is open every day of the year; hours change seasonally.
Other Orchid Events At The Chicago Botanic Garden
February 11 to March 26, 2023
Daily, 10 AM – 4 PM
Tuesdays, February 28,
March 7, 14, 21, 2023
8:15 – 9:45 AM
Thursdays, February 16 – March 23, 2023
5 to 8 PM
March 11 to 12, 2023
10 AM – 4 PM
March 25 – 26, 2023
10 AM – 4 PM
Thursday, March 30, 2023 9 AM to 4 PM
Suggestion For Couples Doing A Day Trip
If you love biking, maybe make a day out of heading up to Glencoe to see The Orchid Show. Granted, the Chicago Botanic Garden is actually in this far north Chicago suburb, but it's worth a drive up. As someone who spent her adolescence growing up in the northwest suburbs, I can tell you that there are things to do up there. Here's what I would do:
The Event

Widen your lens and see the orchid as never before. This year's
Orchid Show will take visitors on a journey through immersive
rooms filled with exaggerated elements illustrating what makes an
orchid an orchid. Exhibits will feature more than 10,000 stunning
orchids and other tropical plants, creating an unforgettable display for
more than 50,000 visitors to experience. This is the only large-scale
orchid show in the Chicago metropolitan region. The programming
includes educational displays to engage visitors in the beauty, diversity,
and importance of orchids. Visitors can also explore the show Thursday
evenings during Orchids After Hours, taking in a different atmosphere
at night, with food and drink available for purchase.

The Setting

The Orchid Show's display spreads throughout eight rooms in the
Regenstein Center. Imaginative and creative designs by Garden
staff reflect our appreciation of the indoor beauty of tropical plants.
Further Orchid Reading
From Halston to Rodarte: Exploring Fashion's Ongoing Love of Orchids
Halston's Personal Orchid Man on the Netflix Series, Studio 54 and Tending Flowers for the New York Élite
Great orchid care tip from this article: "they just sort of do their thing. You need to water them occasionally, but not so much. They're bromeliads, which are plants that essentially grow on trees and get their water from the air. The worst thing you can do with orchids is to over-water them."
Opened in 2019, the Mildred Plant Orchidarium houses ever expanding and rotating selections orchid collection. Hundreds of taxa, or individual types of orchids, are growing there, including threatened and endangered native orchids.
The orchidarium is located within the staff-only production greenhouses on the Chicago Botanic Garden's south end. For more information visit https://www.chicagobotanic.org