The "Get Your Rear In Gear" Tinley Park 5K Run/Walk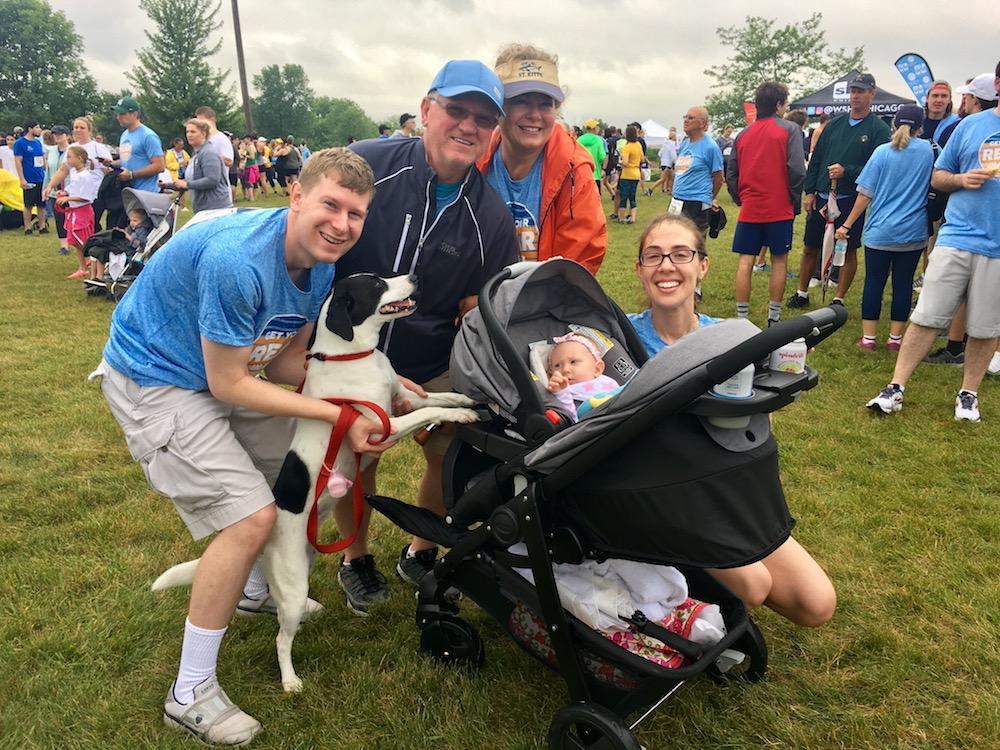 What a walk! Sunday I participated in the Get Your Rear In Gear 5K Walk with my husband, our dog, our four month old baby girl, and his parents in toe.
What is 5K in miles? 3.1 miles.
2018 is its 10th year in Tinley Park, and hosted by the Colon Cancer Coalition, this event's main goal, besides raising funds, is to bring awareness to colon cancer which is the second leading cause of death in the United States of America.
The personal connection to us was my husband Geoff's paternal grandfather Leonard F. Pyrzynski who passed away June 27, 2009 from colon cancer. Leonard was a veteran in the Korean War, and it is said that there is may be a connection to instanes of colon cancer in soldiers who were exposed to agent orange during the war.
Walking After Giving Birth
Not every mom is the same when it comes to physical activity after giving birth. Take for instance Tinley Park Mom and chiropractor Dr. Alexis Landgrebe who participated in the 5K Run and finished as a top female finisher! Me on the other hand, I knew I could absolutely not participate in the 5K Run, so I opted for the 5K Walk which took place at 9:00AM.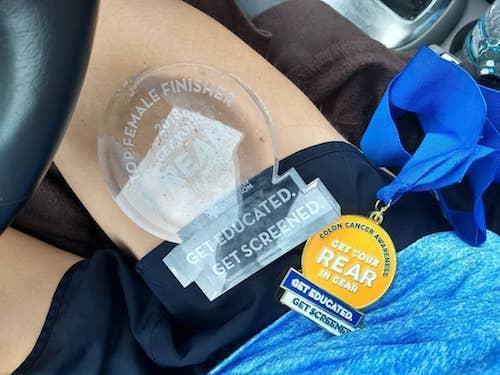 We are all different when it comes to our physical capacities and the time it takes for us moms to bounce-back after giving birth. Recovery after giving birth is not a race.
The beauty of Run/Walk events is that anyone at every level of physicality can particiapte for an important cause. The competition aspect of the Run is not meant to make others feel less than. Remember to remind yourself that you are a mom now and no one can compete with what you have. You've got the best award there is, and that is your child(ren).
What The Walk Was Like This Year
Get Your Rear In Gear is a rain or shine event, so no matter the weather the event would still take place regardless if nobody showed up. It reached a high of 77F that day, which was July 22nd, 2018, but during the walk, which took place in the morning, it was around 72F with gray skies and intermitten drizzling. The atmosphere felt refreshing, perfect atmosphere except for the rain.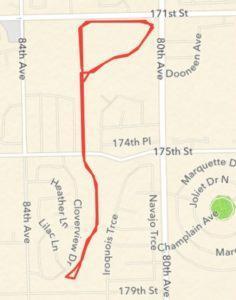 Pro-Tip: Always have a very big umbrella on hand.
Most of us with strollers ended up carrying our babies in our arms and making multiple pit stops to get our umbrellas out or to grab a water.
Towards the end of the walk people bailed because the rain was starting to come down hard. We proudly reached the finish line second to last. For me it was important to complete the course because I felt able to and because it felt like a special follow-up to the "induction walk" I did four months earlier, a week before Eileah was born. I think when you become a mom you feel like you can pull through anything, so you find yourself pushing yourself more, not just for you but for your child. Eileah inspires me to push myself because I want to set a good example to her and even though I am getting older and won't be able to be as good at things like I used to be, it's making the effort to try that I hope she takes away from experiences like this.
The next Get Your Rear In Gear Tinley Park 5K Run/Walk is scheduled for July 28, 2019.
For more information
Get Your Rear in Gear – Chicagoland
Get Your Rear In Gear 5K Run/Walk Tinley Park site
Upcoming 5Ks within 25 Miles of Tinley Park
SaveSave
SaveSave