Free Concerts in Chicago South Suburbs and Chicago Southland
This schedule is a free compilation courtesy of Ed Novick, as a courtesy to Chicago Southland residents for their knowledge and summer enjoyment.  
Be sure to subscribe to Ed's impressive blog for all kinds of news on events at ednovick.wordpress.com.
Free Concerts in the Chicago Southland in Summer 2022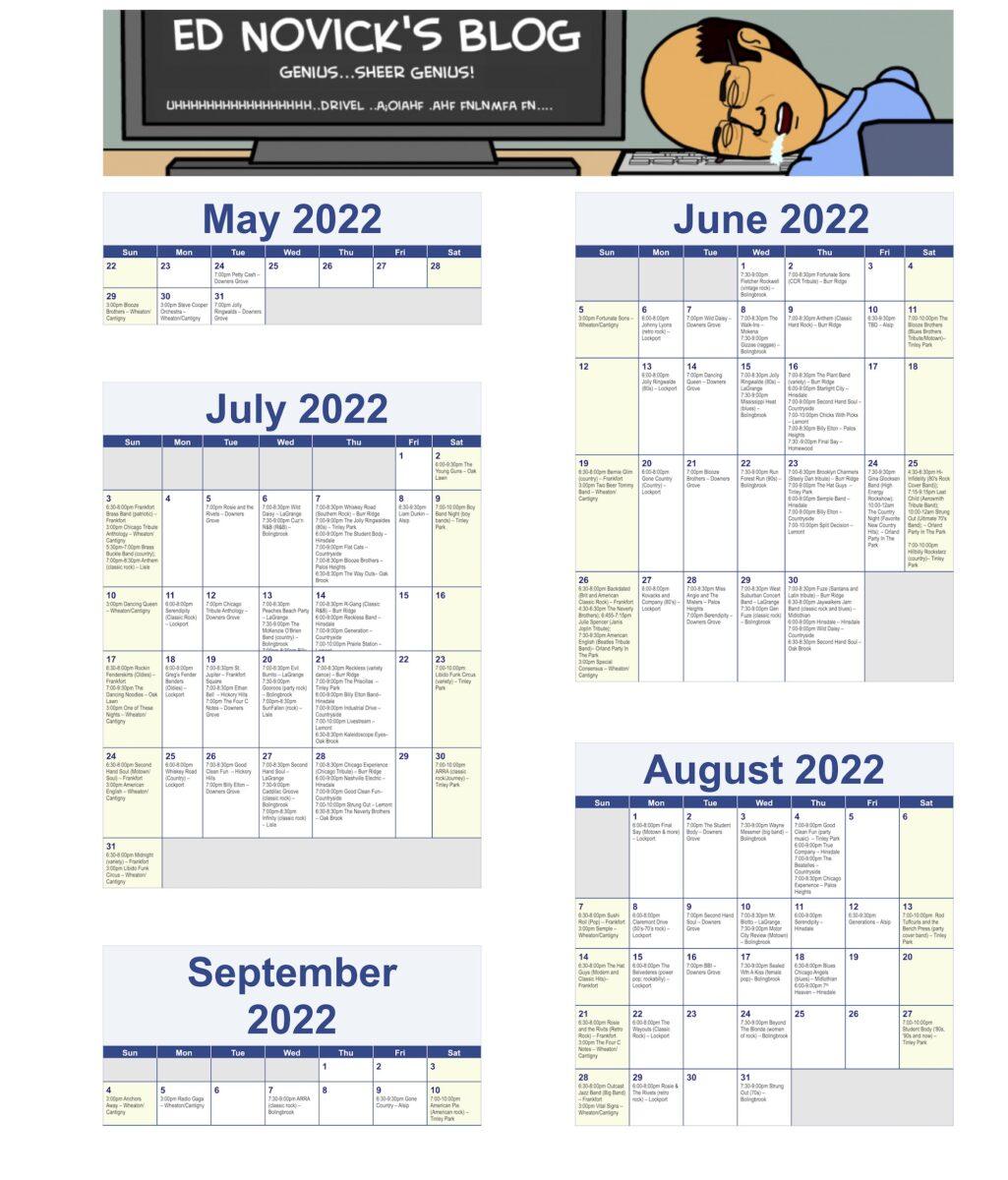 I'm excited to once again share my annual Southland Chicago Free Summer Concerts Calendar!

The summer is approaching and one of our favorite summer activities is enjoying outdoor summer concerts.

This year, we want to enjoy even more! And we want you to enjoy them too!

I have compiled a calendar of free outdoor summer concerts around the Chicago Southland and nearby suburbs. The schedule includes band names, dates, times (where available), locations and links to more information.

CLICK HERE for the Free Summer Concert Calendar

Click on the link above to open the calendar, then print or download it for your reference all summer long.

When you're looking for something to do this summer, you can check the calendar and head out to enjoy a free outdoor summer concert. Bring friends and make the entire summer one big party!

Maybe you'll even see us there!

No guarantees are made. Schedule is subject to change – see individual event web sites for more information and rain out policies. Web site listings are at the bottom of this schedule.

Check with individual location websites for polices on foods and beverages.

Bring your lawn chairs and/or a blanket, and ENJOY! Happy Summer!
---
Locations and Web Sites of Featured Events (Listed Alphabetically)
Alsip
Fountain Hills Golf Course driving range, 12601 S. Kedzie Avenue, Alsip – one Friday a month; https://www.alsipparks.org/fountain-hills-golf-club-event-schedule/ 
Bolingbrook
Performing Arts Center – 375 W. Briarcliff Road (Behind Village Hall Town Center: Wednesdays https://www.bolingbrook.com/index.asp?SEC=29EC8B40-70C8-4B71-A59F-D8BAD37D0EA0&DE=C30C3010-FC68-4608-8080-9896C19F914F 
Burr Ridge
Village Center (701 Village Center Drive) 7:00-8:30pm Thursdays – https://www.burr-ridge.gov/events/concerts-on-the-green/ 
Countryside
Countryside Park (located at 630 61st Street)  7:00-9:00pm Thursdays –  https://www.countryside-il.org/special-events/concerts-in-the-park/ 
Frankfort
Breidert Green Community Park, The Center of Frankfort's Historic District, White and Kansas Streets  – 6:30 p.m. to 8:00 p.m. – https://www.frankfortchamber.com/concerts-on-the-green/ 
Frankfort Square
Island Prairie Bandshell, 7540 W. Braemar Lane, Frankfort, IL 7:00pm Tuesdays https://www.fspd.org/wp-content/uploads/2022/04/Summer-2022-04-07-22.pdf
Hickory Hills
Tuesdays 7-8:30pm, Kasey Meadow Park, 8047 W 91st Place, Hickory Hills, IL https://www.hhparkdistrict.org/wp-content/uploads/2022/04/full.pdf 
Hinsdale
Thursdays – 6 – 9pm   Garfield and Chicago Ave – Hinsdale, IL = http://www.hinsdalechamber.com/  
Homewood-Flossmoor
Irwin Park Bandshell 18120 S. Highland Avenue, Homewood – https://mail.google.com/mail/u/0/#inbox/FMfcgzGpFqPVXhZjsRwLKhJbxzlKDrJJ?projector=1&messagePartId=0.1
LaGrange
132 W Oak Ave, LaGrange, IL Wedenesdays – 7 – 8:30 pm https://s3.amazonaws.com/dl.onlineparkdistrict.com/uploads/brochure/file/49/2022_CPDLGP_Summer_FINAL.pdf
Lemont
Historic Downtown Lemont -Thursdsay 7:00-10:00pm https://www.lemont.il.us/Home/Components/Calendar/Event/965/19?curm=7&cury=2022
Lisle
1800 Short Street, Lisle -Sunday or Wednesday 7:00-8:30pm https://www.lisleparkdistrict.org/specialevents.html   
Lockport
Central Square 9th and Hamilton, Lockport, IL – https://www.lockportpark.org/rccms/wp-content/uploads/2022/04/2022-Summer-Highlights-WEB.pdf 
Midlothian
Park District – 6:30-8:00pm Thursdays Kostner Park/Bellybutton Hill 15030 Kostner Ave, Midlothian, IL –  https://www.midlothianparkdistrict.org/musicinmidlothian 
Mokena
Yunker Park Bandshell, 10824 La Porte Road, Mokena– Wednesday, 7pm  https://www.mokenapark.com/news-and-events/upcoming-events/#590
Palos Heights
Memorial Park, 7607 W College Dr, Palos Heights, IL 60463 – Thursdays or Tuesday 7:00 – 8:30pm https://flipflashpages.uniflip.com/3/612682/1123105/pub/html5.html#page/6
Oak Brook
1450 Forest Gate Road, Oak Brook, Thursday, 6:30-8:30pm https://www.obparks.org/special-events 
Oak Lawn
Park District – 95th St. & 52nd Ave, Oak Lawn, IL – 7pm on alternate Sundays https://www.oaklawn-il.gov/residents/special-events/calendar-of-events  
Orland Hills
Party In The Park Orland Hills, 16553 S. Haven Ave, Orland HIlls , IL –  https://www.ohpartyinthepark.com/event-information/full-event-schedule 
Tinley Park
Zabrocki Plaza, 17375 S. Oak Park Ave. (adjacent to the Oak Park Avenue Metra station), Tinley Park, IL https://www.tinleypark.org/government/departments/marketing_department/music_in_the_plaza.php
AND Tony Bettenhausen Recreation Center Band Shell (8125 W. 171st Street, Tinley Park) http://www.tinleyparkdistrict.org/concerts-in-the-park/
Wheaton
Cantigny –1 S 151 Winfield Road, Wheaton, IL Free event – parking – $10 per car – Sundays 3pm https://cantigny.org/events/