Floralore Designs of Tinley Park's COVID-19 Community Uplift Initiative
When Lisa Weincek thought of what she could do to spread joy and kindness during this time of COVID-19, she decided to ask the community for nominations of who could use some flowers to brighten their day. She has spent countless hours arranging flowers and delivering them to doorsteps across the Southwest Chicago suburbs, even some random drop-offs, which led her to coin the hashtag #dingdongflowers.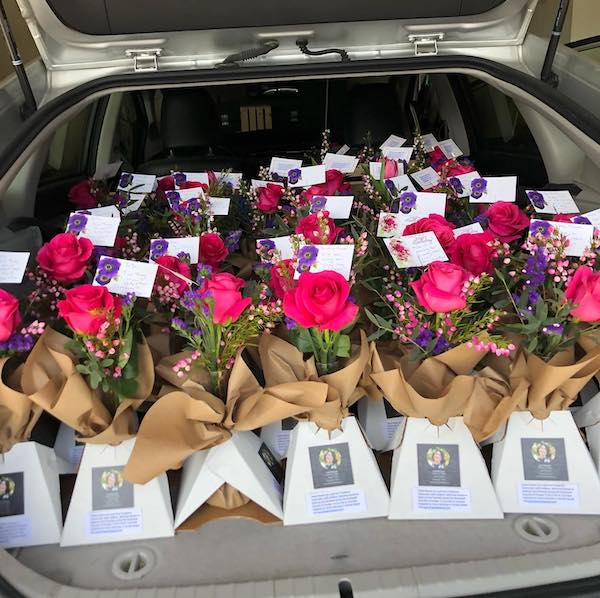 Lisa's community uplift initiative is something she has been doing out of the goodness of her heart at no charge to whomever nominates someone to receive one of her creations. But she does appreciate donations to offset the costs from those who are able to contribute through her website: https://floraloredesigns.com. And she always comes up with a different floral arrangement theme each week. Look at this sample of arrangements from one of the weeks she was delivery:
You can check out her social profiles here:
Her business is located right here in Tinley Park, called Floralore Designs. I learned about her through a mom in my Tinley Park Moms Facebook group named Beth. She knows the owner from a networking group and says Lisa is a sweetheart, so she wanted to make sure she get's some recognition.
And hey, why not honor the memory of those who made a sacrifice this Memorial Day, with flowers from Floralore?
Why send flowers on Memorial day?
Memorial Day was originally called Decoration Day, with "the purpose of strewing flowers or otherwise decorating the graves of comrades who died in defense of their country" according to the US Memorial Day website.
If you are unsure of what flowers to send for Memorial Day, consider asking a local florist like Lisa to design a patriotic arrangement in red, white, and blue with their choice of flowers for you.