Fire Prevention Week and The Tinley Park Fire Department
Look who I spotted! A photo of Tinley Park photographer Kat Haring's firefighter hubby Brad (Tinley Park Fire Department) featured in the new Kidlist article on Fire Prevention Week 2021 (October 3–9, 2021).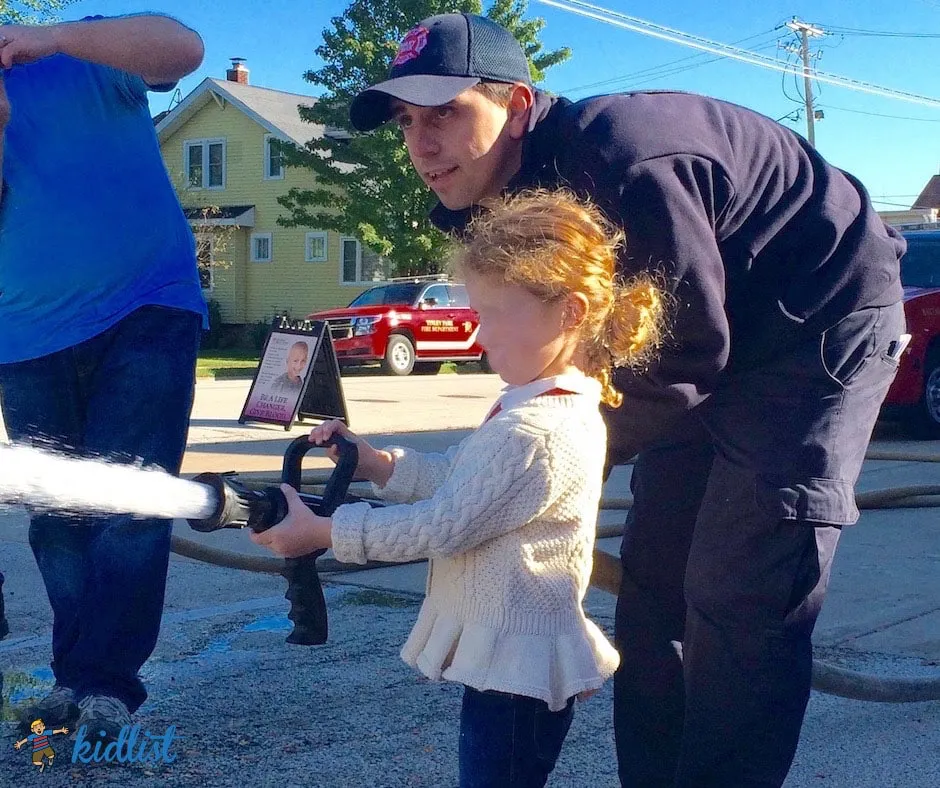 To learn more about the Tinley Park Fire Department visit their Facebook page, their main way of sharing online. The old Tinley Park Fire Department website it appears they abandoned in 2017.
To learn more about National Fire Prevention Week, fun learning activities for kids, toolkits for educatiors, and cool merchandise, visit the offical National Fire Prevention Asssociations website.
---
Location Of The Tinley Park Fire Stations
The Tinley Park Fire Department is called upon for a variety of search, rescue and safety operations. For this reason, the department maintains a wide range of service equipment, vehicles and training facilities to facilitate these needs. For information, please call the administrative offices at (708) 444-5200.
Station No. 46 (Headquarters)
17355 S. 68th Court
Formerly known as Fire Station No. 1
Fire Station No. 47
7825 W. 167th St.
Formerly known as Fire Station No. 2
Fire Station No. 48
9191 W. 175th St.
Formerly known as Fire Station No. 3
Fire Station No. 49
7801 W. 191st St.
Formerly known as Fire Station No. 4
Training Tower
7750 W. 183rd St.
(No personnel stationed at this facility)
---
Information About The Tinley Park Fire Department
The Tinley Park Fire Department has been providing high-quality fire prevention and suppression services to residents since 1901. More than 125 Fire Department personnel serve around the clock from fully staffed fire stations located in four strategic locations in the Village.
The Fire Department's mission is to provide an outstanding level of service by staffing the highest degree of trained professionals, who devote duty above personal risk. The Fire Department is constantly seeking improved ways to provide exceptional service to citizens. The department advances public safety through its fire prevention, investigation and education programs.
Responding to nearly 3,000 fire emergencies per year and supporting more than 5,000 emergency medical calls, the Fire Department maintains an on-duty complement of 15 members staffing two engine companies, one truck company, one tower ladder and a shift commander. Staff trains regularly at the state-of-the-art training center and are members of MABAS Division 24. Staff also participate as members of the CART Blue Technical Rescue Team. Paramedic service is provided by Kurtz Ambulance Service, the Village's EMS contract service staffing five advanced life support ambulances.
You'll find FAQs, key forms and publications, helpful safety tips, information on Public Education events, details on inspections, fundraising and donation opportunities and detailed reports on the Village of Tinley Park website's main Fire Department page.
Some of the resources you'll find:
ISO Rating
CPR Training
Special Event Request
Fire Sprinkler Permit Application
Fire Alarm Permit Application
TPFD Members
Fixed Extinguishing Permit Application
U.S. Flag Retirement Drop Box
Also, if you need to dispose of an American flag that might be beyond repair, did you know that you can drop it off at a fire station? The American flag is sacred to our nation, and I'm not sure if it's a superstition, but their is a proper way to handle a flag if it no longer works.
Also feel free to call the Fire Department at (708) 444-5200 with any questions.
---
History Of Fire Prevention Week:
FIRE PREVENTION WEEK WAS ESTABLISHED TO COMMEMORATE THE GREAT CHICAGO FIRE, THE TRAGIC 1871 CONFLAGRATION THAT KILLED MORE THAN 250 PEOPLE, LEFT 100,000 HOMELESS, DESTROYED MORE THAN 17,400 STRUCTURES AND BURNE3D MORE THAN 2000 ACRES. THE FIRE BEGAN ON OCTOBER 8, BUT CONTINUED INTO AND DID MOST OF ITS DAMAGE ON OCTOBER 9, 1871.

ACCORDING TO POPULAR LEGEND, THE FIRE BROKE OUT AFTER A COW – BELONGING TO MRS. CATHRINE O'LEARY – KICKED OVER A LAMP, SETTING FIRST THE BARN, THEN THE WHOLE CITY ON FIRE. THIS CAUSE HAS BEEN LEGEND FOR MORE THAN 130 YEARS, BUT THERE IS NO PROOF.

THIS WAS ONE OF THE MAJOR FIRES THAT CHANGED THE WAY THAT FIREFIGHTERS AND PUBLIC OFFICIALS THOUGHT ABOUT FIRE SAFETY. ON THE 40TH ANNIVERSARY OF THE GREAT CHICAGO FIRE, THE FIRE MARSHALS ASSOCIATION OF NORTH AMERICA (KNOWN TODAY AS THE INTERNATIONAL FIRE MARSHALS ASSOCIATION), DECIDED THAT THE ANNIVERSARY OF THE GREAT CHICAGO FIRE SHOULD HENCEFORTH BE OBSERVED NOT WITH FESTIVITIES, BUT IN A WAY THAT WOULD KEEP THE PUBLIC INFORMED ABOUT THE IMPORTANCE OF FIRE PREVENTION. THE COMMEMORATION GREW INCREMENTALLY OFFICIAL OVER THE YEARS.

IN 1920, PRESTIDENT WOODROW WILSON ISSUED THE FIRST NATIONAL FIRE PREVENTION DAY PROCLAMATION, AND SINCE 1922, FIRE PREVENTION WEEK HAS BEEN OBSERVED ON THE SUNDAY THROUGH SATURDAY PERIOD IN WHICH OCTOBER 9 FALLS. THIS IS THE LONGEST RUNNING PUBLIC HEALTH AND SAFETY OBSERVANCE ON RECORD. THE PRESIDENT OF THE UNITED STATES HAS SIGNED A PROCLAMATION PROCLAIMING A NATIONAL OBSERVANCE DURING THAT WEEK EVERY YEAR SINCE 1925.

The City of Warner Robins, Georgia