End of the Pandemic In Sight — Coronavirus Chronicles
I am so happy to say that we are near that silverlining and back to normal living. For a few months it looked like the vaccine rollouts would take a long time to unfold. But then all of sudden, like magic, my husband and I are able to schedule our vaccine appointments at our local Walgreens—exactly 13 months after the World Health Organization declared COVID-19 a global pandemic.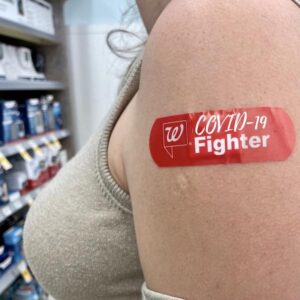 RANDOM FACT: 13 is a lucky number for my husband and this is yet another happy coincidence of seeing it pop up when we've had good fortune befall us.
Timeline of COVID Vaccine Developments
April 1, 2021: Vaccine trickle becomes torrent as U.S. eligibility rules widen.
April 18, 2021: Half of All US Adults Have Received 1 COVID-19 Dose
April 9, 2021: Anyone over the age of 16 can register to get vaccinated (3 options: Pfizer, Moderna, Johnson & Johnson) in Illinois.
April 11, 2021: My husband and I get our 1st dose of the Moderna vaccine, exactly 1 year and 1 month from the start of quarantine.
May 9, 2021: My husband and I get our 2nd/final dose of the Moderna vaccine.
May 12, 2021: Vaccines become available for children 12 and up.
May 17, 2021: Illinois Govenor Pritzker lifts mask mandate for fully vaccinated Illinois Residents.
How Did We Get a COVID-19 Vaccine So Quickly?
Dr. Fauci explains on April 9, 2021:
"So the bottom line is: this did not happen in 11 months. It was due to an extraordinary multi-disciplinary effort, involving basic clinical and pre-clinical science that had been underway, out of the spotlight for decades, before the unfolding of the COVID-19 pandemic."

Dr. Anthony Fauci
The Best Gift of All
For me personally it's been a dreamy past few days. The vaccines are the best gift we could all ask for this year, after over a year of living like the world was on the verge of ending. But only second to that is my daughter being able to come to stores and indoor public places with us again.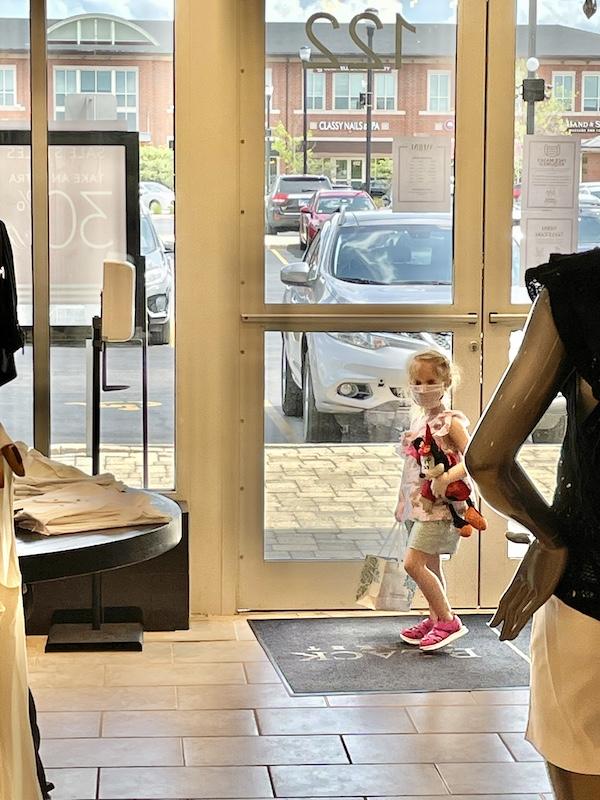 If you've been following these coronavirus chronicles of mine, you'll remember that our daughter was just under two years old when quarantine started. And then my birthday happened to be the first day, in 432 days (14.2 months) that my daughter had been anywhere besides the great outdoors or a family member's home. And it's all thanks to my husband, who that morning was able to coax our newly turned three year old daughter into keeping on her mask.
My daughter and I had the most fun day, our first real full-fledged girls day out—we went shopping! My daughter wanted to go into every store at Orland Crossing Shopping Center, she was just wonderful. I loved how she wanted to hold her bag of bath bombs from Soft Surroundings every store we stopped in. She was absolutely adorable and I could tell enjoyed herself thoroughly. But like all of us, she reached her limit. The photo you see here is of her at the front of the White House Black Market store, non-verbally communicating that she wants to move on. But isn't she so cute while she's giving me "the glare"? And then she went to down for a nap when we got home; so I got some quiet mommy alone time too!
What's Next?
Tomorrow will be two weeks since mine and my husband's final shot of the Moderna vaccine, which means it will become fully effective and we technically won't have to wear masks inside of most public places—but we probably will still wear our masks for a while to be safe. The days of no more maskne (acne due to mask wearing) are in sight! And so I think this is where I'm going to leave this series of articles chronicling mom life during coronavirus. COVID-19 is not over yet, it may become just another one of those vaccines you get for protection like the flu shot or the Polio vaccine. But for my family, we're getting closer to normal and everything's coming up roses it seems like. And so I don't think I'll have anything more to write about on this subject.
My coronavirus chronicles have never been anything unique from the experiences of most moms living during this pandemic, but that's not why I started writing them on March 17, 2020. I believe there is value in storytelling, sharing, and memory keeping. I'm no Anne Frank by any stretch of the imagination, but reading people's diaries and first-hand accounts of life during different historic periods informs future generations in ways that history books only get the tip of the ice berg. I wish I knew more about my ancestors, and so I wanted to do what they couldn't or didn't know they could do. Whatever the case, I just wanted to leave some notes for future generations to read, in case they go looking for answers about what it was like living through this particular pandemic. This mom's particular perspective is just one of many different types of people's perspectives, and together we paint a picture. But you have to participate in order to help your particular stroke add to the big picture.
The End? ?