Mom Review of Martha and Marley Spoon Meal Delivery Service
I was so excited when Tinley Park Mom told us that Martha & Marley Spoon were giving us an opportunity to try out their service! I've been a Martha Stewart fan since my middle school years and my family has a tradition of cooking the Thanksgiving meal featured in Martha Stewart Living magazine each year. Last year we tried out the Martha & Marley Spoon Thanksgiving box and it was GREAT! Martha & Marley Spoon made the holiday meal so much less stressful, and therefore I could not wait to try their regular dinner boxes.
Ease Of Ordering and Delivery
I arranged for our box to be delivered on the Monday after a weekend out of state for a friend's wedding. I liked that there are quite a few different meals to choose from, and the family-friendlier options were clearly marked, which was convenient since I have a toddler. There's also vegetarian and gluten-free options for families who need those. It was such a relief to not have to rush out to the grocery store first thing Monday morning because I knew everything we needed for dinner would arrive ready to be prepared.
Below are a few pictures of what the box looks like when it arrives – the ingredients are separated out by meal, and the meat is packed between two large ice packs, so if you miss your delivery the food will still be safe for hours. I've tried a few other meal boxes before, and I haven't always gotten the freshest produce. I'm glad to report that my herbs from the Martha & Marley Spoon box were fresh and not wilted.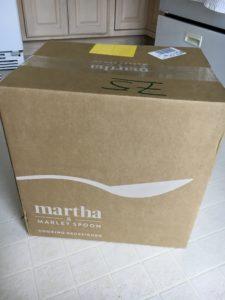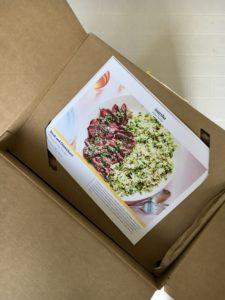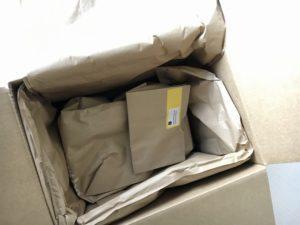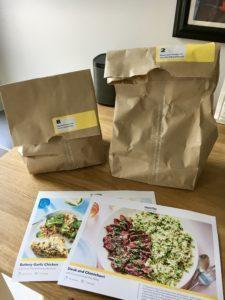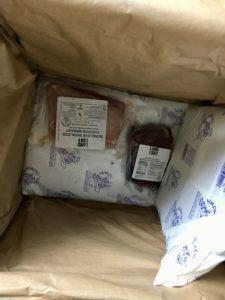 On to the cooking!
Both meals were relatively simple to prepare, but still pretty hands-on. The recipe cards state each meal takes about 30 minutes, but it was closer to 50 minutes (and 2 episodes of Sesame Street) with a few toddler interruptions. The portion sizes were large. I was sharing with a toddler, but even so, I had enough left over to make a hearty lunch for myself the next day.
Favs
We loved the Buttery Garlic Chicken with Orzo Pilaf & Roasted Broccoli! I will definitely save the recipe and make it again. I've been following Martha & Marley Spoon for a while and one of the things I love about their meals compared to other services is that they offer relatively familiar dishes, just elevated. Shallots make any meal seem more gourmet! My toddler really loved the orzo pasta, of course, put put a good dent in the broccoli and chicken too.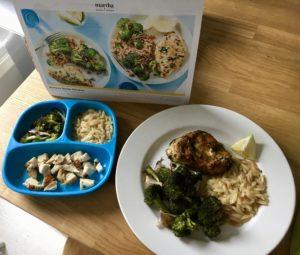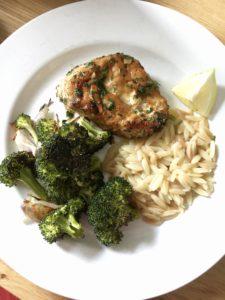 Chimichurri sauce is one of my favorite things, so I knew we had to try the Steak & Chimichurri meal with Couscous-Snap Pea salad. I couldn't believe I was able to make a great-tasting chimichurri in less than 30 minutes. I'll be saving that little recipe for future applications. I had some trouble getting the steak up to temp in the time the recipe card suggested so I had to cook it longer and it turned out a little tough. I think it would have been better on a real grill instead of a grill pan. The Couscous-Snap Pea Salad was so good I kept stealing bites as I was waiting for the steak to finish. Again, we had a nice amount of leftovers for my lunch the next day.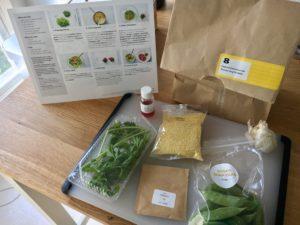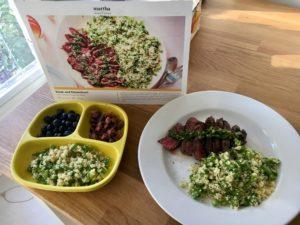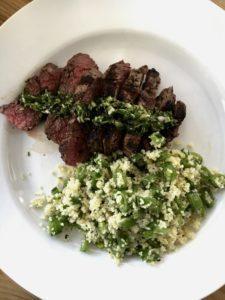 Overall
Overall, we enjoyed our Martha & Marley Spoon trial! The meal options are family-friendly and there's probably something even the pickiest eaters will like. Martha & Marley Spoon takes the guesswork and stress out of meal planning, and you won't get stuck in a culinary rut with their unique spins on classic dishes. The only drawback for our family is cost. It's still less expensive to go to grocery store for your meals, but you'll also probably end up with less food waste using a meal service. You have to decide which trade-offs work for your family. I think this service will be very handy for our family during times where things are really busy and we need to automate some of our meal planning without sacrificing taste and variety.
Thanks Tinley Park Mom for giving us the opportunity to check out Martha & Marley Spoon and share our experience with you!