Corned Beef Recipe – Pressure Cooker Corned Beef
Time Saving And Delicious Corned Beef Recipe for the Pressure Cooker!
For St. Patrick's Day, this dish is a staple. However, it takes a very very long time to make with the standard boiling process. If you have a pressure cooker, or are considering getting one, this recipe is perfect for it. It will reduce your cook time down from 8 hours to about 2 hours.
For This Pressure Cooker Corned Beef Recipe, You Will Need The Following Ingredients:
1 corned beef (already seasoned with seasoning)
6 red potatoes
1 head of cabbage
1 -2 cups of carrots
1 yellow onion (sliced)
1/4 cup of parsley

4 teaspoons of chicken bouillon
4 cups of water
Corned Beef Recipe Steps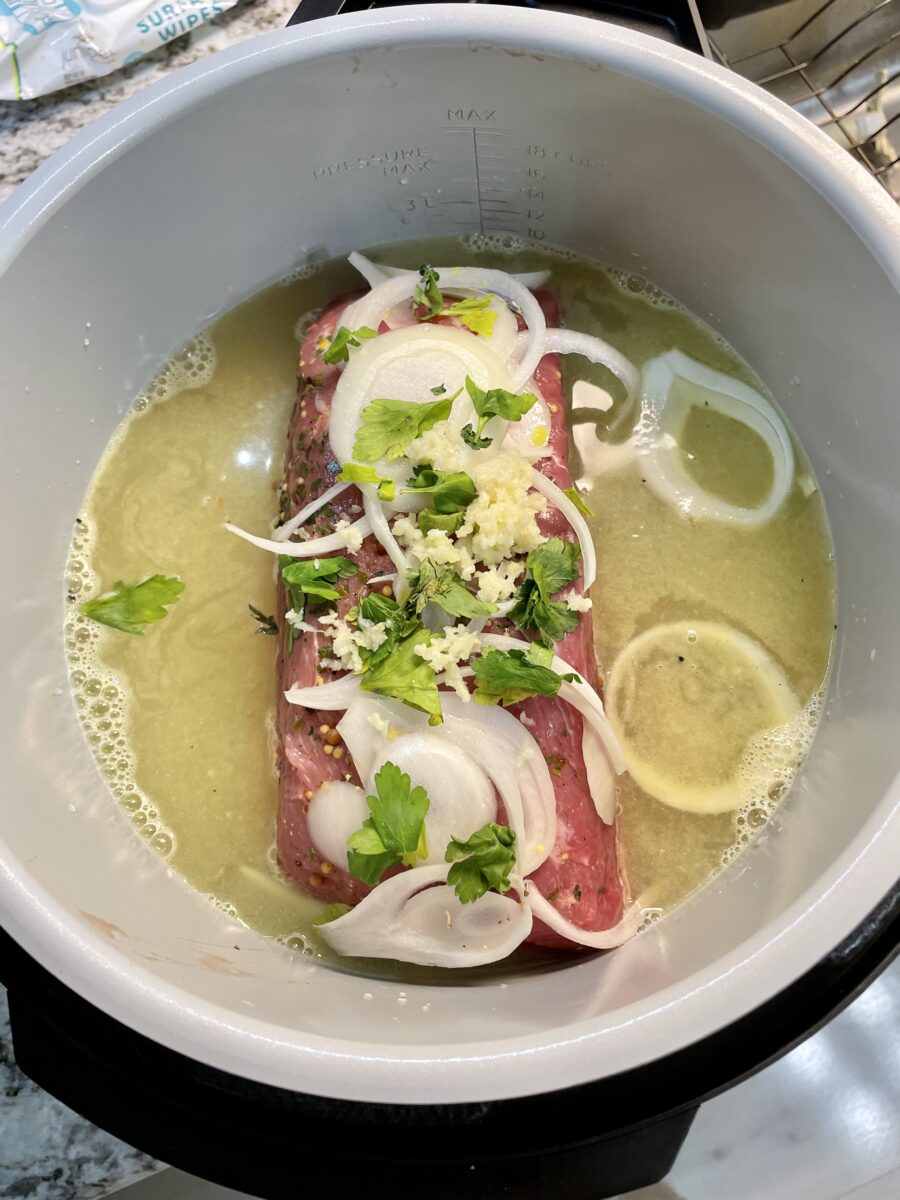 1. Add bouillon to 4 cups of water inside the pressure cooker and stir.
2. Add corned beef fat side down. This ensuring that all the liquid from the packaging gets into the pot so you don't lose flavor.
3. Add some of the sliced onion on top of the corned beef and sprinkle some parsley.
4. Pressure cook for 1 hour and 15 minutes.
5. While the corned beef cooks, slice the red potatoes into 1 inch portions.
Prep The Corned Beef Veggies
6. Cut the cabbage into half and remove the core. Cut the cabbage into large chunks.
7. Slice the carrots into small slices
When To Take The Corned Beef Out Of The Pressure Cooker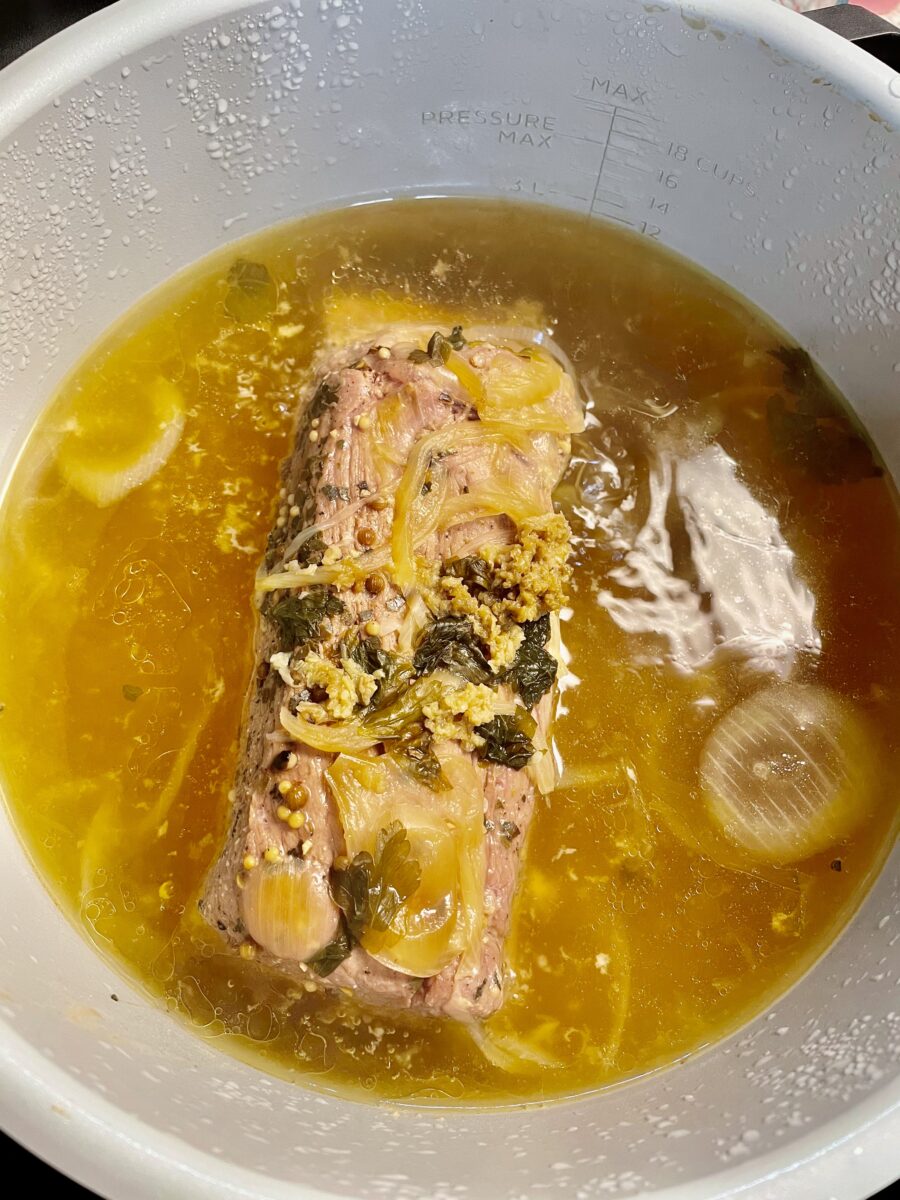 8. When the pressure cooker completes the 1 hour and 15 minutes high pressure cook time, let the pressure cooker stay for another 10 minutes (it will depressurize very slowly as it counts up to 10 minutes). After the 10 minutes, use the release value to depressurize it fully. Then take the corned beef out (leaving the liquid in the pot) and set the corned beef aside covered.
9. Skim any large pieces of gunk off the surface of the remaining liquid.
Corned Beef Veggies Steps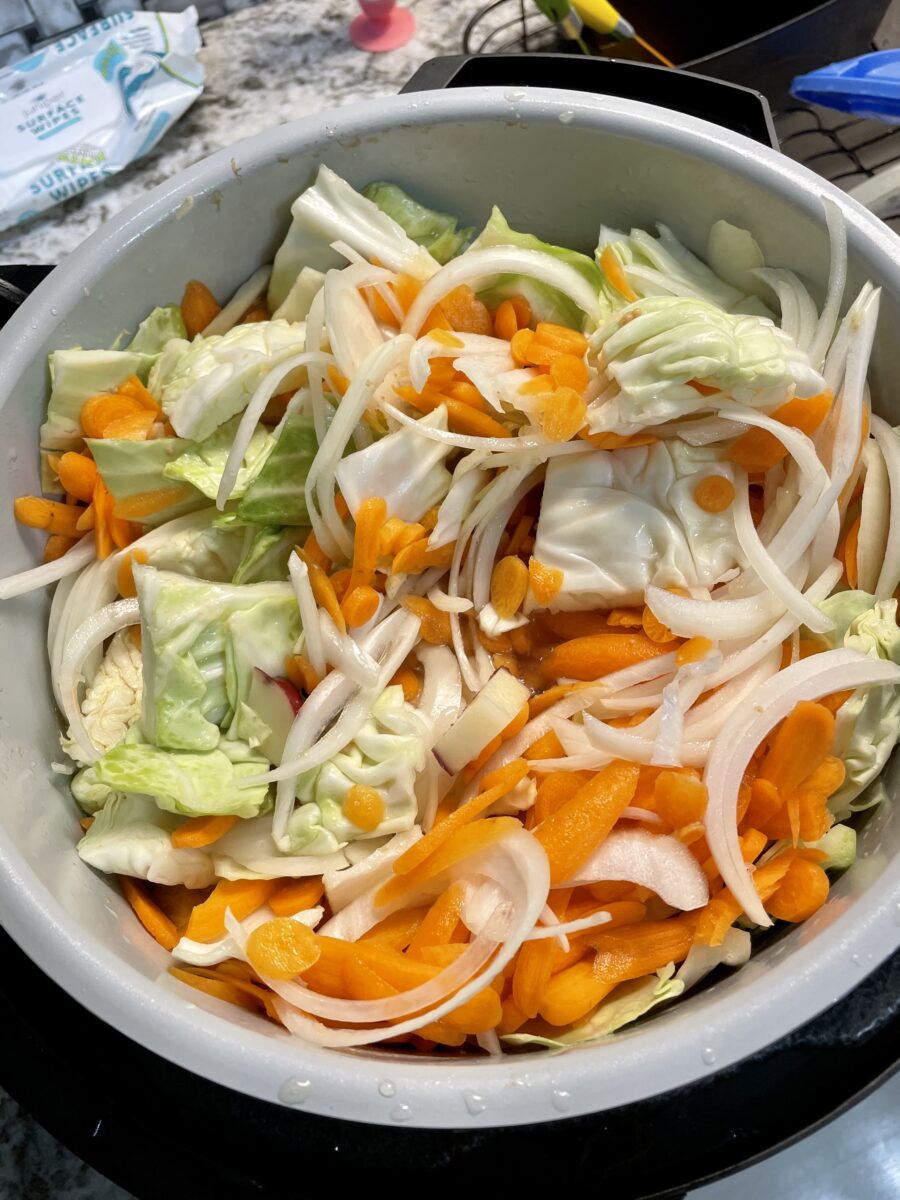 10. Add in your remaining onion, carrots, potatoes, and cabbage into the pressure cooker, which has the liquid from the corned beef you saved. Mix all the veggies up so you get the yummy liquid on all of the parts.
11. Pressure cook on high for 4 minutes. At the end of the pressure cook, let the pressure cooker count up to 1 minute before releasing pressure.
12. Remove the veggies from the liquid and plate. Serve as is or with some Dijon mustard on the side.
13. Finally, bain taitneamh as do bhéile! (a.k.a bon appetit in Gaelic).