Constance Macon — Women Owned Business Spotlight
As a business owner myself, spotlighting local businesses is a huge part of my blog's mission. And of all the types of businesses there are, women-owned businesses are less likely than men-owned businesses to remain in operation. So spotlighting fellow business women is something I feel called to do. I do it for my daughter, I do it for other daughters out there, and I do it for the women of all ages who have talent but don't think they have what it takes to go into business for themself.
Who Was Constance Macon?
The woman I'm going to share about with you used to be a neighbor of ours. Today would've been her 62nd birthday. She also happened to run a woman-owned business her in the Chicago South Suburbs. Her daughter-in-law Kelly happens to be my co-admin of the Tinley Park Mom Facebook group. Small world right? It's like Cat's Cradle—one connection is never just singular.
Constance (Connie) Macon died Monday, July 20, at the age of 61, after a long battle with illness at her home in Aberdeen, Washington State.
She was the daughter of Harvey Z. and Barrie Lee Kline of Tinley Park, Illinois. In her obituary Connie was described as:
I remember her as stoic and definitely feisty. My husband and I first met her at a townhome association meeting. I do not hesitate to write that we had a crooked property management company at the time. Geoff and I being newlyweds we relieved when we saw future versions of ourselves walk in: Connie and her husband Mike. What luck that this couple should happen to be our new neighbors.
Connie was President and CEO of Cambridge Management, Ltd., a property management company headquartered in Orland Park. Her husband and she came with the original property documents from when our townhome association was established. The longtime property managment company was trying to prevent people from being able ot rent out the townhomes they owned!
While Connie's company never became our townhome association's property management company, having her as a neighbor for a few years helped clean up the mess that once was our former property management company. She and her husband Mike made some "good trouble," as the famous saying of the late great John Lewis goes. It inspired residents to get involved and a few years later we got a new and vastly better property management company (not hers just to be clear).
Connie and her husband Mike eventually moved to Washington State for a change of scenery. Knowing what we know now, I'm sure the fresh air of the Pacific Northwest did her soul some good as she battled illness.
---
Q&A With Connie's Daughter-in-Law
Where did Connie grow up?
Connie grew up right here in Tinley Park. She went to Carl Sandburg High School.
How many children does she have?
She has 2 boys. Ed and Bill and 2 step children; Darby and Lucas
How did (her business) start?
She was working for a property management company and they were going to close. She bought out the business from them and started her own.
Where did she get her training for what she did?
Connie attended Governors State University.
When did she first start to develop a passion for what she did? 6. How many employees does her business have?
I believe it's 10.
What were some of her passions? Which one was the strongest and why?
She loved cooking and gardening. She idolized chefs and always tried to recreate gourmet meals. She really loved gardening and spending time outdoors. She also loved to travel and spent a lot of time on her boat with her husband. They travelled all over the pacific northwest. Her favorite place to travel though was definitely Hawaii and always talked about taking a family trip there.
What was the driving force of her life?
Her family. Her husband Mike and her grandkids.
Walk me through something she did that you loved about her.
Every single time she visited Finn she would bring him a book or 2. She absolutely loved reading to him. She would find funny books, sweet books, or anything he was into.
What was something that got her the most excited?
Definitely traveling. She was always dreaming of her next vacation or adventure.
What were some future plans she had for her business and her life?
She was planning to retire and sell the business to her boys who had been working along side her for years. Once retired her and Mike had a camper they restored and wanted to travel National Parks with it plus go on longer boat trips.
In today's struggling economy, what steps are Ed and/or Bill taking to continue to grow her business?
Everything they do will always be in her memory and honor. There are no current plans to change the business model but will expand on what their mom has already created.
What books, podcasts, articles, etc. did she read/listen to that influenced the way she approached her business and life?
There's a station on Pandora called hipster cocktail party that she really loved. We played that during her visitation. As far as influencing her business i'm not sure.
What would you say was her favorite place (restaurant or other kind of place) in Tinley and/or the Chicago Southwest Suburbs?
She loved Primal Cut Steakhouse. We went there for many celebrations after they opened. She loves Aurelios pizza and we would get pizza every time she was here. It's not the SW burbs but she also really enjoyed The one of a kind show at the merchandise mart every year and the Morton Arboretum.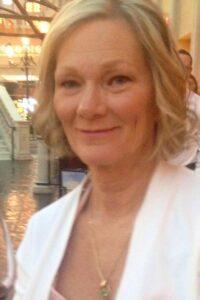 Is there anything else that I haven't asked you that you would like people to know about Connie?
Connie was extremely strong until the very end. She was so dead-set on seeing us during this pandemic and we weren't allowed to fly to Seattle and she couldn't fly here. Her and Mike drove was Seattle to Chicago over 7 days to spend a week here. They trailered their camper and stayed at campsites so Connie could safely travel and have no interaction with anyone and risk infection. It showed how strong her love was for her family.
---
If you have or know of a woman-owned business that is based in the Chicago Southwest Suburbs, and would like them to be added to the Women-Owned Businesses In The Chicago Southwest Suburbs Directory, e-mail me. All women-owned businesses are welcome. Yes you too, stay-at-home mom with a small business you run on the side."
In the meantime, please consider buying me a Ko-fi: