Cakes by Dria — Women Owned Business Spotlight
As a business owner myself, spotlighting local businesses is a huge part of my blog's mission. And of all the types of businesses there are, women-owned businesses are less likely than men-owned businesses to remain in operation. So spotlighting fellow business women is something I feel called to do. I do it for my daughter, I do it for other daughters out there, and I do it for the women of all ages who have talent but don't think they have what it takes to go into business for themself.
Who is Dria?
The woman I'm going to share about with you I stumbled upon thanks to Instagram; sweet providence indeed. So far she has been our family cake maker since 2018, but she can bake and create anything. For example, she has this new invention I think called hot chocolate bombs; they're like bath bombs except they are edible and transform you hot water or milk into a hot chocolate cold weather fantasy.
Look at the cake she made for my birthday: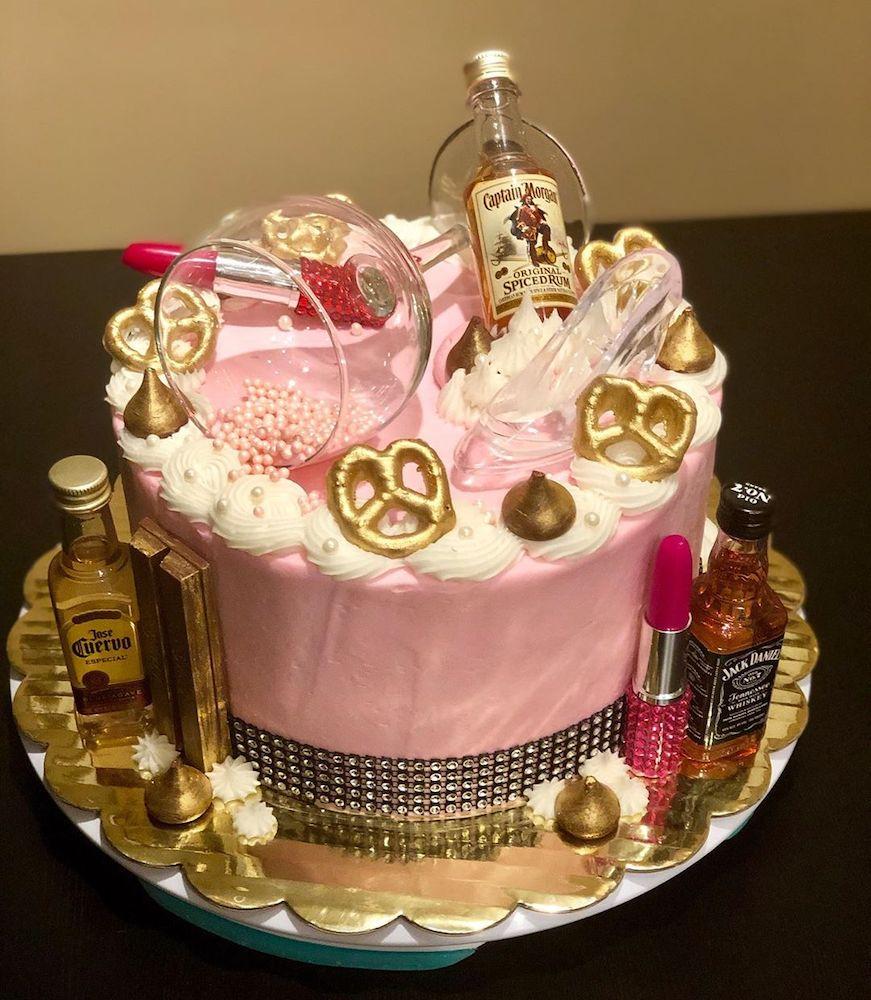 She is soo talented. Ready to meet Dria?
---
Video Interview
Q&A With Tinley Park Cake Boss Alexandria "Dria"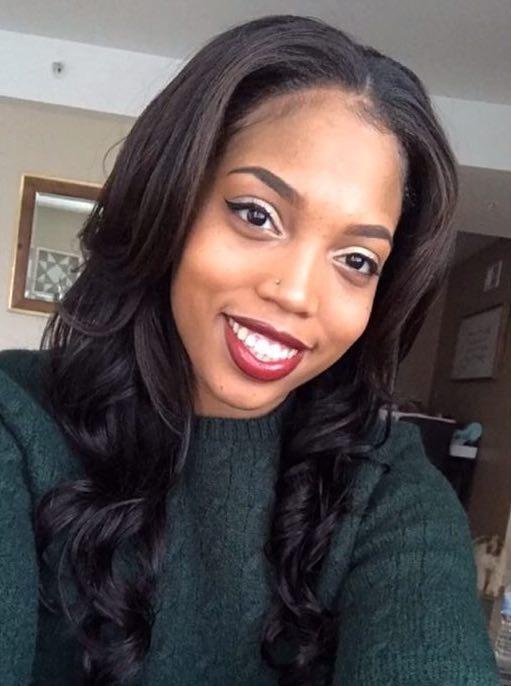 What's your full name? I only know you as Dria. Alexandria is my full name. When I was born my parents called me Alex, but my older brother called me Dria. I would only show responses to the name Dria and it just stuck.
Where did you grow up? I grew up in Texas and Louisiana.
Congratulations on getting married this year. What would you like to say about your new chapter in life? Thank you! It's going really well we are excited about our future together. This quarantine has allowed us to spend a lot of time together and we haven't killed each other yet; so, we might have a shot at this.
How did your Cakes by Dria start? I would post pictures of desserts I decorated at work and people began to ask specifically for me to decorate their cakes at my job. I was hourly so obviously I wasn't receiving the pay for how much the cake actually cost. I decided to play around with some recipes at home and when I got them where I wanted that's when Cakes by Dria came to life.
Where did you get your training for baking, etc.? It's pretty crazy how I fell into it. I applied for a cashier position at Walmart summer break 2012. There was a section that asked what I was studying which was a BBA in Marketing and an Art minor. They put me in the bakery as a cake decorator; Bobbi Beltran the lead decorator initially taught me everything! From there I worked for many different bakery chains learning from amazing decorators and making longtime friends in the process.
When did you first start to develop a passion for making cakes, etc.? I've always loved to eat; I was never a picky eater as a child I'd cry for brussel sprouts and white trees (cauliflower). I have amazing cooks in my family and learned from my parents and grandparents. As amazing as they are/were, they did not make desserts. Growing up all our desserts were pretty much store bought. Occasionally we would get boxed cake mix, but we were not a big sweets family. The only time we had homemade desserts were for major holidays; I think that lack of desserts created a passion.
What's something interesting about baking? Baking can be very unforgiving. It demands patience; it's not like cooking meals you can do dashes and pinches of this and that during the process. Turn the heat up and down, take it off the stove put it back on etc. Once your batter is made you are at the mercy of the oven and hopeful you didn't forget to add something; there's no turning back.
What or who are your influences for baking and making cakes? My great aunt Ruth was an amazing baker; on Thanksgiving she made a 7-UP and Lemon Cream poundcake that just melted on your tongue. One of my biggest regrets is never making one with her or having a recipe. Unfortunately, I haven't been able to recreate those cakes it's never quite the same.
What are some of your passions? Which one is the strongest and why? There are so many things I'm passionate about. My Faith, Family, Traveling, Helping Others, Self-Improvement, Cooking, Art Nature. My faith in God is my strongest passion; He helps to get me through without Him, without faith I would be lost.
What is the driving force of your life so far? God, my husband, and family make up my driving force. I believe it's very important to be surrounded by successful, whole, happy supportive people. It makes all the difference; there is a popular saying, "Protect your peace" and I say it often!
What is something that get's you the most excited on most days? Lately it's been the simple things like not taking health for granted, realizing I have a new bloom on a plant, and how excited my dog is every single morning he sees me it's like Christmas Day.
What are some future plans you have for Cakes by Dria? I plan to expand my menu; I'm adding royal iced cookies, cake pops, and pies to the menu I'll be introducing them very soon. In the meantime, I've added Cake Jars and Hot Chocolate Bombs. They have really been taking off great for these cold nights; the kids love them, and they make great gifts.
In today's struggling economy, what steps are you taking to continue to help your family weather the financial storm we are all living through? Unfortunately, my full-time career a Sr. Banquet Operations Manager at a convention center was not recession proof. My husband and I decided to invest in a recession proof industry, and we were able to get state/federal licenses and extend our knowledge and teach others how to do the same. We both work from home in financial services: life insurance, business solutions, long/short term investments and retirement solutions. During this pandemic, it has been a blessing to help so many people create generational wealth for their family while also helping our own.
What books, podcasts, articles, etc. do you read/listen to that influence the way you approach business and life? Books: Rich Dad Poor Dad/ Cashflow Quadrant by Robert Kiyosaki and Relationship Goals by Michael Todd. Podcasts: Dare2Speak, Dave Ramsey
What would you say is your favorite place (restaurant or other kind of place) in Tinley and/or the Chicago Southwest Suburbs? I'm really bad about having an absolute favorite anything. Here are a few of my favorite local spots:
The Barrel Club, Oak Lawn – Order EVERYTHING!
Mr. Riko Loko, Tinley Park – So many great options, best churros I've ever had
Just Shrimp, Orland Park – lobster Po-boy (sauce on side its SPICY)
Cooper's Hawk Winery, Orland Park – Chocolate Noir wine, Egg rolls w/ cashew sauce
SemSem Mediterranean, Tinley Park – Great Customer service and my favorite Falafel
Blissful Banana, Orland Park – Yummy muffins and vegan options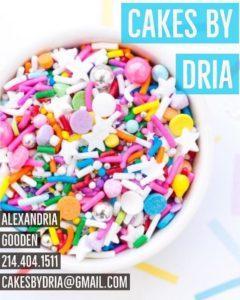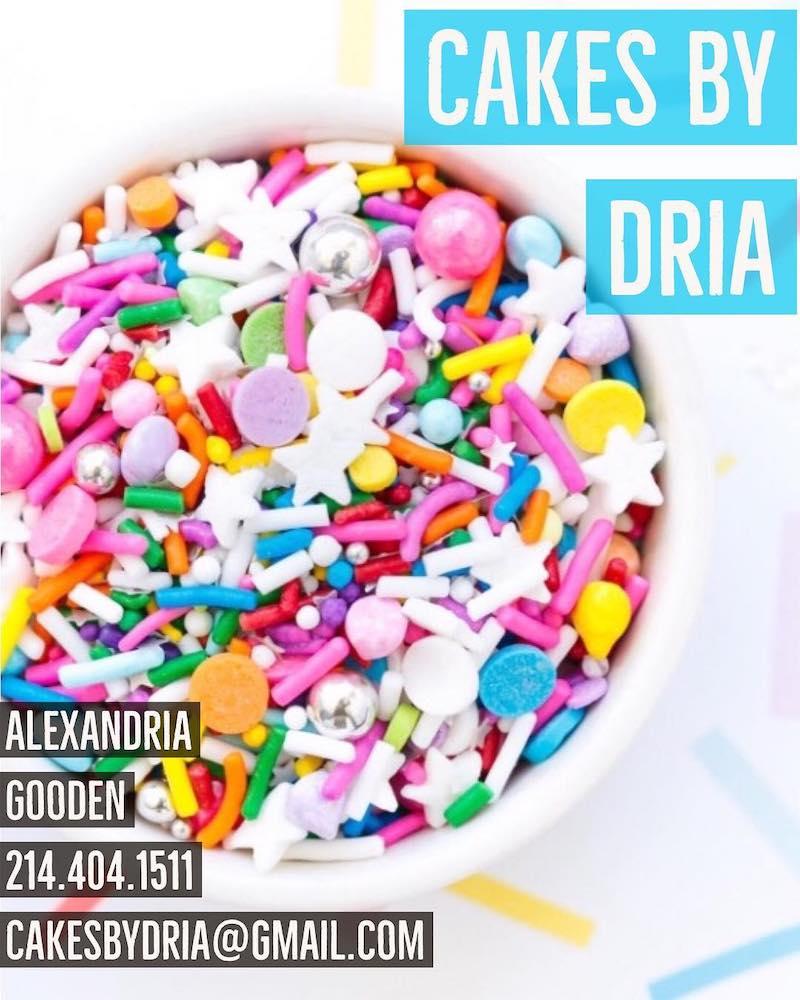 Is there anything else that I haven't asked you that you would like people to know about you and/or your business? I'm often asked why I don't open my own bakery. I've been in the industry part time and full time for 8 years; even worked as an assistant bakery manager over the course of that time. I've decorated 60-100 cakes in a single day many of days; I began to be burned out especially around holidays. I started to hate doing something I love. Working from home to my own beat makes me happy spending holidays with my family and not being totally exhausted brings me JOY. As I stated earlier Protect Your Peace.
---
Catch Dria on Instagram and Facebook. Contact her via (214) 404-1511 or e-mail her your sweet desires by [email protected].
P.S. She also has a green thumb! Check out her plant and flower Instagram account at @goodthumbs.
---
If you have or know of a woman-owned business that is based in the Chicago Southwest Suburbs, and would like them to be added to the Women-Owned Businesses In The Chicago Southwest Suburbs Directory, e-mail me. All women-owned businesses are welcome. Yes you too, stay-at-home mom with a small business you run on the side."
In the meantime, please consider buying me a Ko-fi: