Bringing Kids To Protests — Why It's Ok If Moms Do Or Don't
"Here's to the woman who was told she needed to be aggressive, but who decided that her strength took a different form.

Here's to the woman that proves grace is power. That empathy unlocks new perspectives. That strength can't be defined in one way..Because it is our strength that defines us."

— What Defines Us by the Chloe Wine Collection
Those words came from a commercial that played before Meghan Markle's 6 minute address to a graduating class, which People Magazine had the exclusive video of. I wanted to share it with you because these past 2 weeks I've heard from mothers who feel afraid to say that they were afraid of going to a protest for George Floyd and the Black Lives Matter movement.
I reached out to the Tinley Park Moms Facebook group and asked other moms how they felt about going or not going. Here are just a few quotes from Tinley Park Moms:
To Bring Or Not To Bring Kids To A Protest? What Moms Feel About It.
Many moms wished to remain anonymous because this is a sensitive subject. Most are not identified so as to protect their and their family's safety in case they are misunderstood, misspoke, or offend.
"Did my husband and I play it too safe? Are we a part of the problem with getting change to happen for African Americans and People of Color by not protesting and not bringing our kids? I've been racking my brain trying to figure this out."
---
"I think everyone WAS afraid to bring their kids due to the way the village and community responded to a peaceful protest. Not to mention, that was an accurate response due to the "hecklers" that were there making racial and sexual comments while carrying bats."
---
"Not to be a nay-sayer but I definitely left my kids with Grandma so they wouldn't get possibly tear gassed. That never happened but it crossed my mind enough to leave them at her house."
---
"I brought my son. I got so many dirty looks but this is important for him to witness. We stood back and took it in and I explained what I could. I was nervous that things may go bad but oak park ave is pretty big and I trusted our community. We didn't stay long because, well, he's 3. He may not understand what is going on right now but this is important for him to witness. If you have speakers, protests, demonstrations in your neighborhood take your family. Open the dialogue. If I can't make the change I can start the change with him."

— Tinley Park Mom Kelly
---
" was on 159th when a huge swat truck went by, around 4:30. I got myself and my kid home as soon as I saw that. No way I'd take my kids out in this. There is no way to tell if the "outside influences" will show up. This is not a quote. Just my personal opinion."
---
"I brought my 12 year old son—I did discuss it with him first and made sure he understood the possible risks before heading out. But I also didn't want a "life lesson" to shadow out the cause of the situation. I hesitate to say it was a helpful experience for him to sort out his emotions after seeing all the news footage because it's not about that or him at all."
---
"I really wanted to go, but I wasn't going to bring my infant and my preschooler.

The way the community reacted on fb before the protest was scary. A lot of ppl were LOOKING for trouble.

I saw a very powerful image of a black mother nursing her infant son at a rally. That was her choice to bring him. (I would have been too scared to bring my child, whatever color they were) but that was brave of her and that little boy is helping change his future.

This was no place for my young privileged white kids to spectate and not understand and possibly put other ppl in danger if something happened.

If they were older–like… Old enough to run away from danger, should fights break out (12?), I might have brought them."
---
"I don't think I would have brought my kids by myself. I think if things had gotten rough it would have helped having both of us there to get the kids out. I have brought my kids to plenty of marches in downtown Chicago. I think it is really important for them to understand that you speak up and stand up when you believe in something because it is our right, but also our obligation. What I think would be nice is a kids march. We can talk all we want as grown ups, but what is really going to bring change is raising our children to realize that things are wrong. Systemic racism isn't a light switch we can shut off. It is a series of many heavy switches that are going to require every generation after the other to do better than the last."
---
"As a biracial woman (black and white) —I'm embarrassed to say I didn't attend because I did not feel safe going myself. Seeing videos posted of some of the residents of tinley park and the way they acted I think I absolutely made the right decision to sit it out."
---
"I wanted to bring my kids with me. I want them to fight for social justice, human rights, and for those who do not have a voice. I want them to understand (to a degree) why I was protesting. But to do that, I had to explain racism to Piper. I hated having to teach her about such an ugly and hateful thing at such a young age, and that idea in itself helped me check my own privilege. If this movement hadn't started up (again), would I be teaching her about racism right now? No, I would wait until she was a bit older. But that's a privilege I have because I'm white. I can't imagine being a black mom having to tell my kids about racism, and at an even earlier age too. And they have to. I want to do better. I want to be a real ally. I want to get educated. I want to help make a change. A long overdue change.

If you're looking to donate in some way, there are many organizations that you can look up. Here are a few:

https://secure.actblue.com/donate/ms_blm_homepage_2019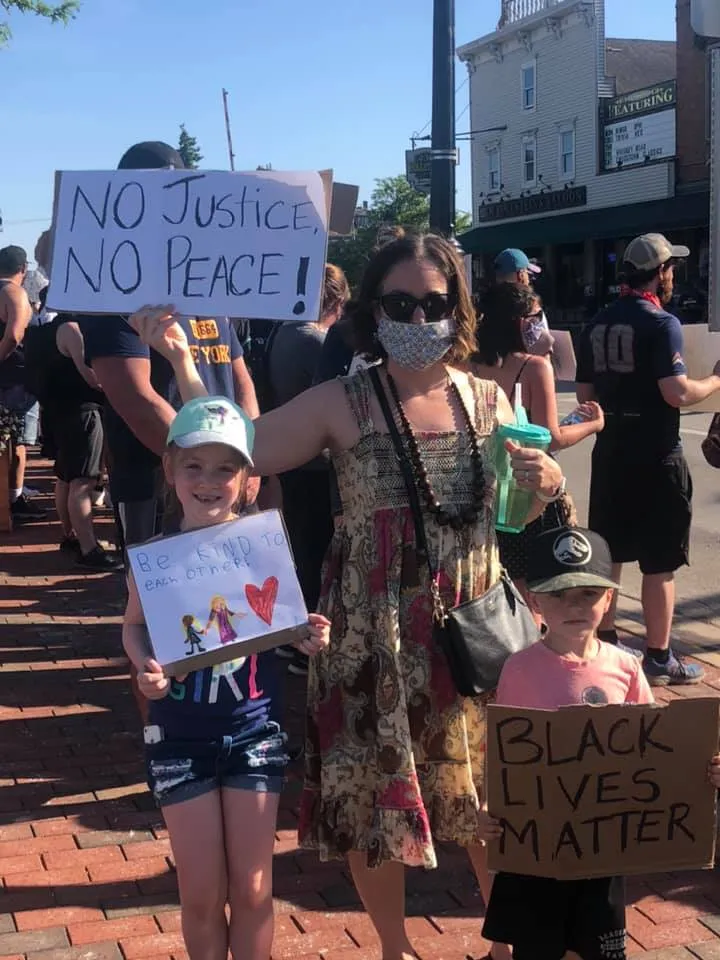 There are moms and dads who didn't feel comfortable taking a chance. After all, protests have historically been unsafe for children, potentially dangerous in nature, and definitely emotionally charged. But from what I've observed in the last 2 tweeks that it depends on the protest city/town. There certainly were causes for concern.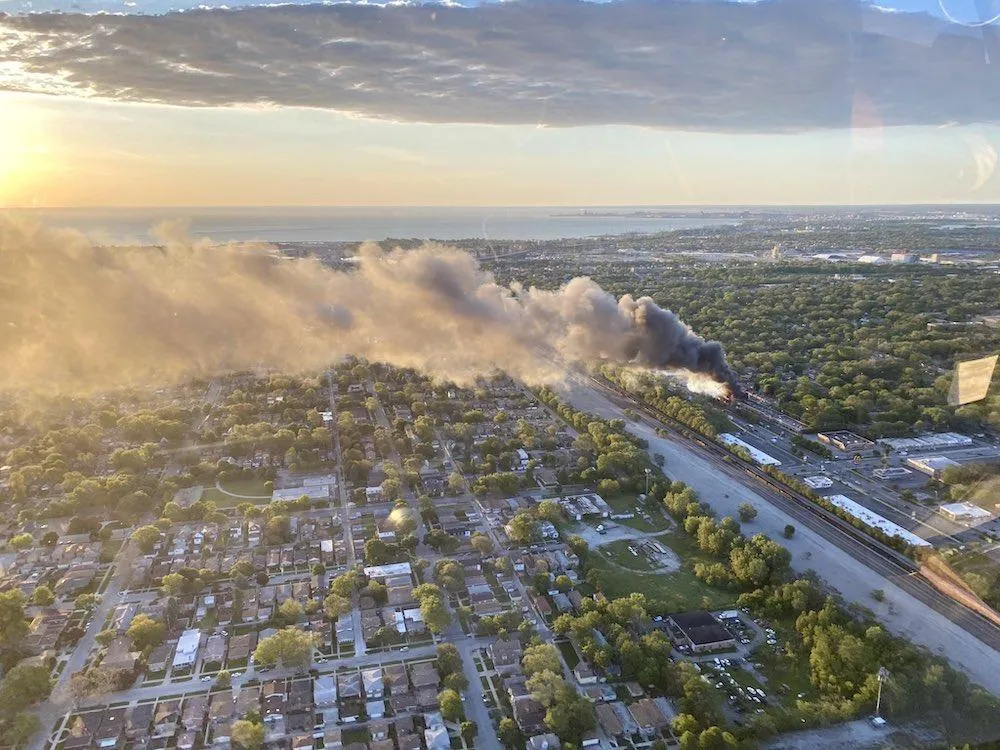 When you're a parent your child(ren)'s safety is the biggest worry you have. But something has changed or changed not too long ago that we're now seeing. Parents, and moms most vocally, have this bravery that I don't think we've seen for a long time; not since maybe the days of like B.C era (I'm picturing the movie 300 (2006)). All parents have a lot on their plates right now because we're dealing with a quarantine that has turned everything upside down. But it's ok if you were one of those parents who stayed at home with your kids. You don't always have to do what most moms do.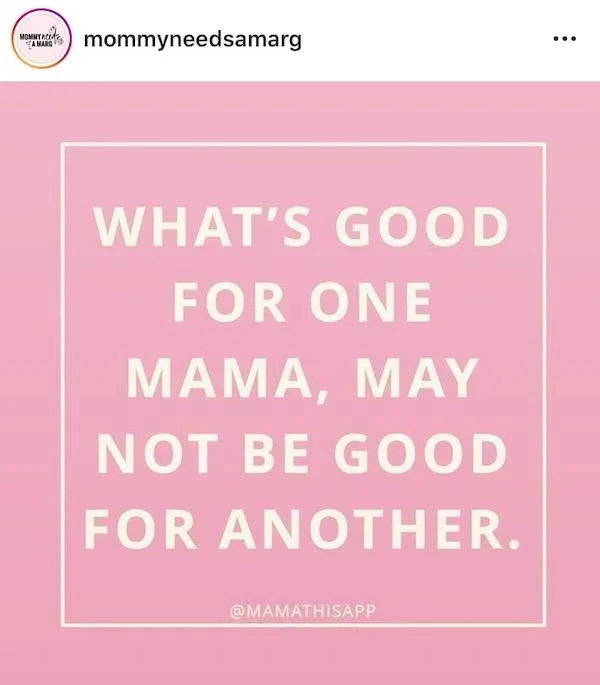 One of the things moms try to teach their kid(s) is to be themselves, to feel secure and confident in themselves… not to worry what other people think of them. This moment in time is about Black Americans and People of Color, but parents deciding not to participate in protesting and not bringing their kids does not make them a part of the systemic problems that are being protested against.
If moms are supposed to practice what they preach, then both the moms who did and did not bring their kids to one of the Black Lives Matters/George Floyd protests are cool. Like the tweet above from a Woman of Color states, "Resistance is NOT a one lane highway—Do NOT feel guilty for not occupying every lane. We need all of them." This I think echoes the words in that commercial at the beginning of this blog post.
So if you have a glass or cup of some beverage, let's virtually clink to the moms and parents who put others needs above their own fears and drew strength from their convictions to bring their kids to one of the recent protests. Those parents (who might seem reckless to some) shined as bright as their valor, captured in adorable but powerful photos/videos with their kids holding up signs. And here's to the moms and parents who wanted to be careful—who shine bright too and are helping in a different way. We're all raising the next generation, we are in this together…Potentially a great generation will do great things as a result of what and how parents and adults are doing.
---
By the way, there's a really good children's book that came out in 2018 that I highly recommend you read, called Let Ther Children March. The book is written from the point of view of a young African-American girl growing up in Birmingham, Alabama. Her family hears Martin Luther King Jr. call for peaceful protest. After her parents express fear, the girl and her brother decide they will march instead. Dr. King expresses concern but allows the children to organize.
This book is so relevant to now. Thanks to our technology today, kids have been doing virtual protests through video conferencing on Facebook; pretty cool.