BLS Certification — Everything You Need To Know
---
We live in a world where survival has been the forefront of everyone's conscious mind as we handle the devastating reports of how COVID-19 has taken over not only our news reports, but our loved one's safety concerns. Today's protocols for survival have been intensified with wearing a mask, staying 6 feet away from one another and being diligent in disinfecting our hands, our homes, and our surroundings. Being able to handle a life-threatening situation has become even more important for people of all ages and reacting in an emergency has increased a bit of fear in us all. That's where Basic Life Support, or BLS comes in.
I am Melody Easterling, owner of Restore2Life.MJE of MJE Enterprises. I have been in the healthcare business for over 12 years and have a Master of Health Sciences degree with a specialization in Addiction Studies as well as a BLS/CPR Instructor Certification (Basic Life Support and Cardiopulmonary Resuscitation). And in this blog article I will break down what Basic Life Support (BLS) is, how it is used, and in what instances it is needed.
What Is Basic Life Support?
BLS is the version of CPR for healthcare providers. BLS classes teach those with a medical license, or those in school for a healthcare profession, how to perform CPR on Adult, Child and Infant victims. BLS is the type of care that healthcare providers, our first responders, and those who are trained as public safety professionals provide those that are experiencing respiratory distress, cardiac arrest, or some sort of obstructed airway. But there is nothing basic about BLS. Those trained with the proper skills are exhibiting their knowledge in cardiopulmonary resuscitation (CPR), relieving airway obstructions, and knowing when to use the automated external defibrillators (AED).
Instances Where BLS Can Help
There recently have been no age restrictions for someone going into cardiac and/or respiratory arrest. Cardiac arrest occurs when the heart pumping rhythm becomes irregular in which early defibrillation (using an AED) is key to returning the persons heart to a regular rhythm. If an AED is not readily available (which most times is), the focus is keeping the blood flowing by performing chest compressions and rescue breaths at an age-appropriate rate until further help arrives or the patient is moved to the appropriate equipped area. Respiratory Arrest occurs when there is no measurable breathing in the victim or when the quality of breathing has been compromised. It is one of the most common emergencies in BLS of younger children especially infants and toddlers.
Why BLS Is Important
Providing high quality rescue breaths is key and following the chain of survival is an important factor for BLS providers to improve the chances of survival and recovery for victims of cardiac arrest. We hear about those that are on the front-line, using critical thinking, working as a team exercising their clinical decision-making skills and learning daily all the new scientific objectives necessary to professionally resuscitate and save lives. These frontline individuals are our Basic Life Support professionals fighting to be anything but basic in a time where life is at it is most unpredictable.
What My Business Restore2Life.MJE Strives To Do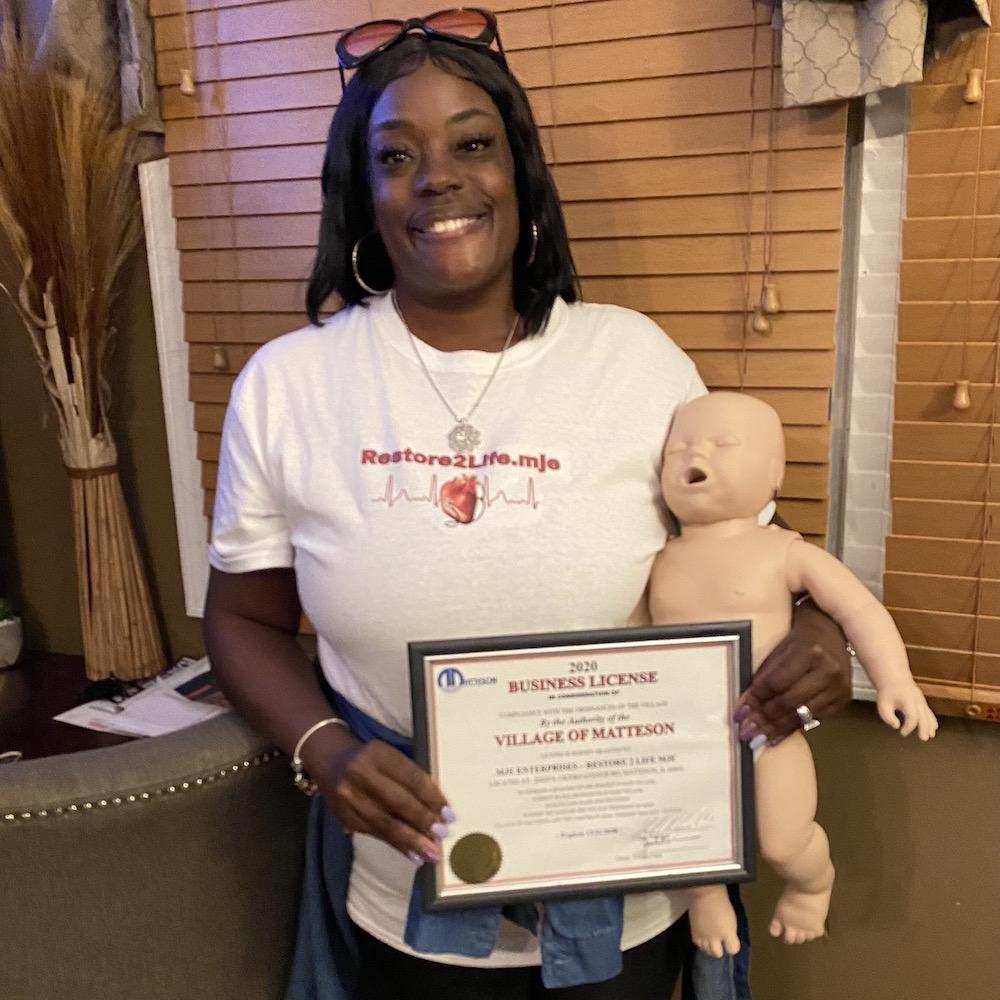 My business mission of savings lives one person at a time is first and foremost and dedicating my training to people of all ages. I strive to provide the best BLS/CPR training and offer many flexible schedules to meet the needs of the community. As a BLS/CPR instructor, certified by American Heart Association, I stress the importance of being prepared to save a life and knowing the proper steps to execute the process of solid CPR. My business serves nursing students, doctors, teachers, daycare providers, tattoo artists, hairstylists, families and just about anyone willing to learn and strive to be apart of the survival chain.
My passion and inspiration come from several health challenges I experienced in the past. My drive to learn survival skills and teach them to my own children went from being a choice to a must. Within this passion, the decision to teach others was an inspiration to jumpstart my business. I became aware of the importance and simplicity of CPR skills and decided I would even offer travel services, as well as Blended Online Learning options to ensure people in the surrounding communities have many options to receive training. I want to serve as many people as I can.
If you are a healthcare provider or student looking to add BLS to your accreditations, please feel free to contact me. The following are the different ways that I can be reached: