Custom Baby Shower Invitations from Basic Invite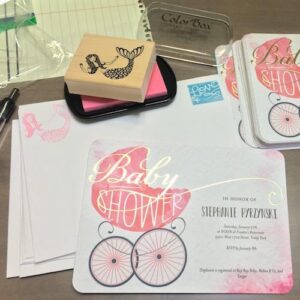 What's past is past, but boy do I wish I had known about Basic Invite when we were figuring out baby shower invitations last December.
Basic Invite is an innovative stationery design company that I just learned about. They've been creating custom cards for every major life moment since 2006 and are well known for their high quality printing and paper.
The Most Popular Baby Shower Themes
Few stationary companies are as digitally forward as Basic Invite. Ordering is easy and customizing your invitations, announcemrnts, or stationary is a breeze with their website interface. They even offer a service where you can create your very own website for your baby shower, wedding, you name it!
What really caught my eye about Basic Invite though was the variety of designs and other accouterments for cards. What really makes the difference between one stationary company over another are the options they offer in terms of design, printing, et al. You don't want to feel like you have a limited pool of card designs to choose from. Basic Invite's volume of design themes is incredible and what's really impressive is how they're always coming up with new designs so that their library of themes is always fresh and current.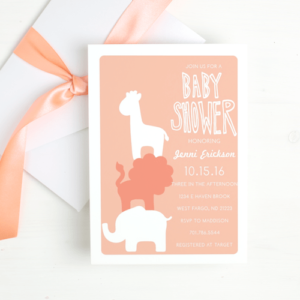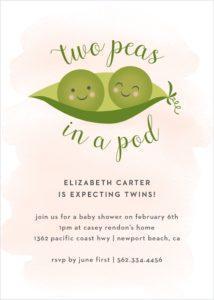 Safari
The Safari Theme is really popular this Summer and Basic Invite offers adorable baby shower cards that capture that wild and fun theme in different ways to fit different style preferences.
Check out their entire Safari Theme Collection here: Baby Shower Invitations Safari Theme
Twins
If you're expecting twins Basic Invite has more variety for that occassion than the more well-known card makers such as Shutterfly. If you've been pulling your hair unable to find the twin baby shower invite for you, click and rest assured when you look through their Twin Baby Shower Collection: Twin Baby Shower Invitations
Why I Wish I Had Known About Basic Invite Earlier
Almost Unlimited Colors – What sets Basic Invite apart from other stationary companies that they are one of the few whose websites allows customers almost unlimited color options, with instant previews online of course. Once you select a design you can change the color of each element on the card to over 180 different color options so you can make sure the card is exactly how you want it down to the littlest detail.
Over 40 Different Colors of Envelopes – And the color options don't stop at the cards. Basic Invite is just as colorful with their envelopes as they are with the invitation cards. You can choose from over 40 different colors when it comes to your envelopes so your invitations stand out before the literal opening of the envelopes. All of their envelopes are peel and seal so the envelopes can be quickly and securely closed too.
Custom Samples – And if you're worried about how the baby shower cards and invitation envelopes are actually going to look once printed, Basic Invite is one of the few websites that allows customers the ability to order a printed sample of their actual invitation so they can see and feel the look and paper quality before placing a final order.
Address Capturing Service – Basic Invite offers an address capturing service that allows you to easily share a link on Facebook, Twitter, Instagram, or any other form of social media to request friends and family addresses. How nice is that? Your recipeint addresses are then stored in your customer account for later in the design process. Here's the kicker: Basic Invite offers recipient address printing at no cost on all Christmas card orders!! Let me tell you that that is not something you can get with many stationary companies.
Foil – As you might have noticed with my baby shower invitations above, I chose gold foil for the lettering of the word 'Baby.' I love fancy touches like that, but if I had known about Basic Invite I could have gone even more opulent because they offer foil cards in gold, silver, and rose gold! Customers can choose flat or raised foil on all foil designs.
Special Offer
As I said I wish I had known about Basic Invite, so it's too late for me, but not for you. And I'm happy to share with you a special offer that Basic Invite has extended to me and my readers for the summer:
Use this special coupon code to get 15% off at Basic Invite this summer only: 15FF51
So go enjoy that special discount and create the custom baby shower invitation you've been dreaming about.
Where You Can Follow Basic Invite on Social Media
SaveSave
SaveSave
SaveSave
SaveSave
SaveSave
SaveSave
SaveSave
SaveSave
SaveSave
SaveSave