Bachelor's Grove Cemetery, Haunted?
Have you heard about Bachelor's Grove Cemetery? It's considered one of the most notorious and haunted cemeteries in the U.S. Here's everything you need to know before you go.
For those of you who aren't familiar with Bachelor's Grove Cemetery in Midlothian, IL it is an abandoned cemetery that's famous for ghost citings. It's also known for being the original burial place of infamous Chicago gangster Al Capone. And allegedly, though not confirmed with legal authorities, the pond at Bachelor's Grove may have been an Al Capone dumping ground for bodies as well.
My husband told me that the body of Al Capone had to be placed elsewhere because grave diggers used to dig up his coffin and disfigure his body. Putting his head in his belly, and so forth.
You'll see headstone and grave stones dating back to the 1800s. The cemetery became abandoned by the 1950's. It then became a popular place for local teenagers to make out and party. Sadly youth would break the headstones or steal them so regularly that most of the surrounding police stations eventually ended up with some piece of the cemetery.
In 2014 the Cook County Forest Preserve cleaned up the site, installing new portions of fence and other repairs. So now it's being mantained with landscaping service that regularly mows the cemetery grounds, cleans up branches and removes garbage.
It's abandoned in the sense that it no longer is an active cemetery, but it's a magnet for the intrigued who want to see if they can spot ghosts or other strange activity.
To get there, the entrance is east of Ridgeland Avenue, across the street from the Rubio Woods Forest Preserve entrance on 143rd Street. The path entrance is about 100 feet West of the two cell phone towers. Maybe you'll see the white lady, the black dog, and floating orbs? Those are just a few things people say they've spotted at Bachelor's Grove Cemetery. For me and my husband we went there because I had never been and my husband had recorded some video with a friend back in 2009. You can check out the videos he took below.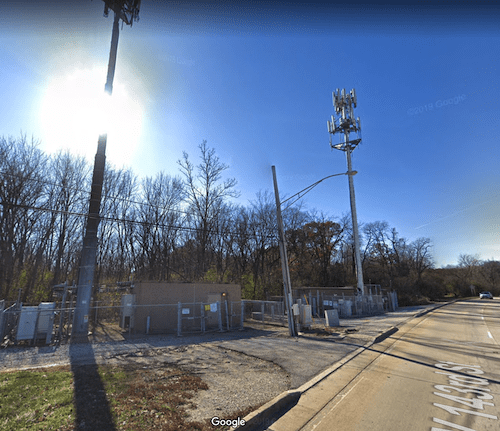 I would recommend going in the summer during the day. I'm sort of a scaredy cat and don't think I could've gone at night. I'd rather play it safe. You do feel like you're on some sacred ground when you walk about. The saddest thing I saw was a grave stone for a little baby. It is said that leaving something for the baby brings good luck. The white lady I mentioned that people claim to see at night is holding a baby. It might be the same as the infant daughter buried at the cemetery.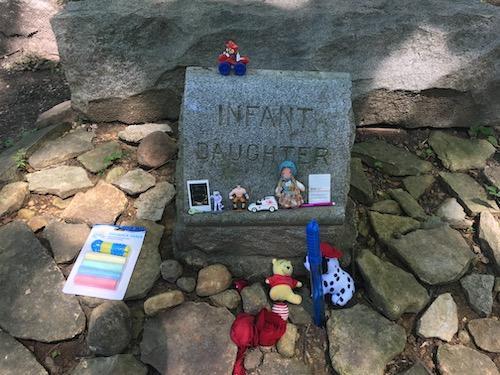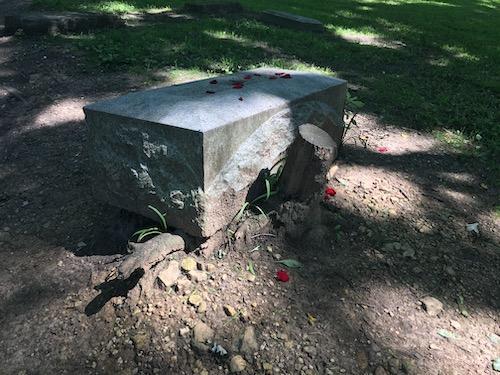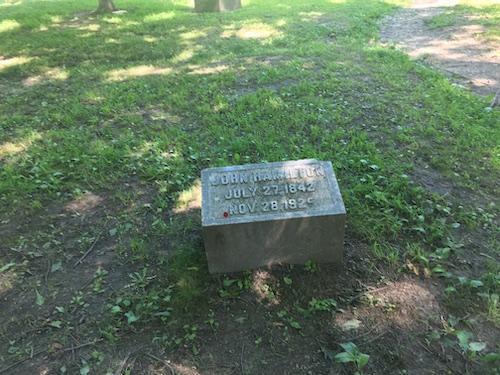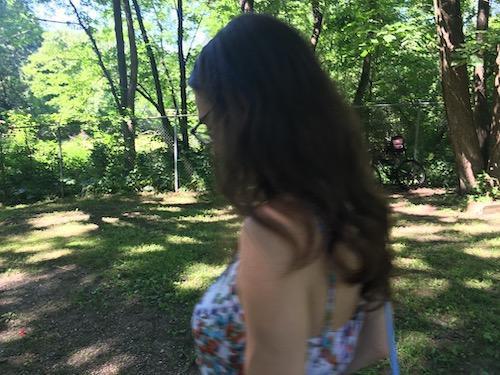 Find out for yourself if it's haunted. I did not encounter anything during the day, but you might if you go in the evening, especially on a full moon night. But unfortunately it is prohibited to go there after dusk; you run the risk of getting arrested if you do. And if you do experience some interesting sightings, be sure to take video or pictures. Tag me on social media or e-mail me because I'd love to see them.
In Depth Video Of Bachelors Grove Cemetery
Thank you to my husband for sharing his exploration of the cemetery back in 2009 with his friend John. Check them out:
Other Famous Graves In The Cemeteries Of The Chicago Southland
Thanks to the Chicago Southland Convention And Visitors Bureau for this comprehensive list of famous graves in the Chicago Southland.