Recommendations, Must-Haves, Gift Ideas, And Other Things To Checkout
Products, Music, Movies, TV, Brands, Books, And More
Every month I share something new (or old/undiscovered) that I love on this page. I've been told I have good taste, but I also am a discerning shopper. Because I research anything before I buy it, anything I list here I'm confident will not disappoint.
Sometimes the must-have item is something kids will love, or moms, or someone else. And the must-have usually goes with the month (i.e. October will be something fall or Halloween appropriate).
**I always prominently disclose if I am compensated for a recommendation.
---
January 2021
For Moms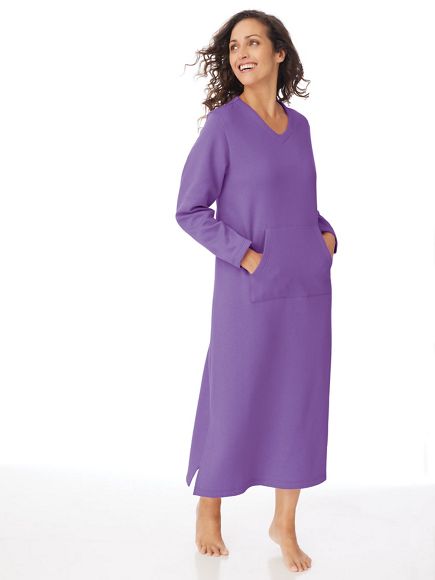 If you pack on the pounds during the winter holidays, this fleece long-sleeved gown will make you feel comfy and forget about your shape. Lounge with confidence. Comes in different colors; I chose mine in my favorite color: purple.
December 2020
For Everyone
Another hard-to-buy movie, but one that I think all ladies especially need to watch right now. It's a timeless lesson, but you have to watch The Christmas List all the way to completion in order to get it (a.k.a the lesson). Basically, don't be afraid to ask for what you want, and if you're not getting what you deserve…then let go of what's holding you back.
November 2020
For Grandparents
I vividly remember this movie back when I was a kid. It was randomly playing on Lifetime Channel and it made me cry so hard. Adapted from Cynthia Voigt's book Homecoming, this TV movie starring Anne Bancroft is a combination The Box Car Children meets The Miracle Worker and dare I say How The Grinch Stole Christmas? The lesson is as old as time: you can come home again. But the bigger picture lesson is that kindness can break a curse, if kindness goes both ways.
October 2020
For Moms And Daughters
My family and I have really gotten into bath bombs this past year and a half. I didn't understand them when I first started hearing about them, but they have arrived and they are here to stay. I've tried four different bath bomb brands so far in the last year and half, and Fragrant Jewels is the most creative one I've found in my search for bath bombs with suprises in them. What makes them unique is that the jewelry item you get in a bathbomb or candle could be worth anywhere from $10 to as much as $10,000 in value!
So this new one is a Fortune Teller one, shaped like a Tarot deck. Right on time for Halloween, and I love the matching candle that comes with the bathbomb. I'm not going to be suprised if this set sells out. The scent of the bathbomb contains orchid, lily, vanilla bean, and sandalwood.
The best part is that there is a Halloween scavenger hunt! Oh the prices. I love the marketing content they came up with.
September 2020
For Moms
I've been using this Australian shampoo since my first hair trim after my daughter was born. You can buy it locally through Brooke Bauer Boutique (located in Tinley Park) or you can do what I do and buy the bigger 1L sized bottle on Amazon for $120. Most recently I found it at a staggeringly low price on Groupon: $81.60 after tax (shipping was free). Kevin Murphy shampoo is not cheap, but it goes a long way. Your hair smells like orchids, feels softer, stronger, eleganter. And I discovered this summer that I don't even need to use conditioner anymore, so in a way the Young.Again.Wash helps you save in the long run.
August 2020
For Everyone
This is such a creative idea, taking kid drawings and adapting them into a jewelry pieces. I can't wait until our daughter is a little older because I totally want to immortalize one of her drawings.
July 2020
For Moms
Feminine, flattering, and feather soft, this skort was the answer to my body insecurities after pregnancy. My skort makes me feel comfortable, confident, and cool in summer and on vacations.
June 2020
For Girls
Fill the magical pen with water to reveal hidden pictures and colors on every page of this adorable book. My 2 year old daughter loves it.